GrillGrates are reversible INTERLOCKING PANELS that fit across the surface of your grill. They can replace your existing grates or cover them. The GrillGrate produces juicier and more tender food.
Made of hard anodized aluminum, GrillGrates increase the grill surface temperature, reduces flare-ups, hot and cold spots and deliver restaurant quality sear marks all at once. GrillGrates are the perfect replacement for old, rusted out grates.
GrillGrates are available in-store at Georgia Spa Company for the Big Green Egg. Sizes include small/MiniMax, medium, large and XL. Grate tool included.
---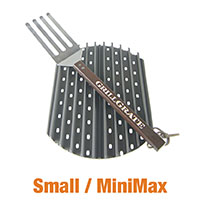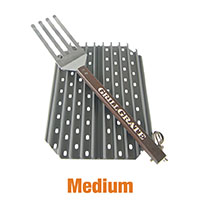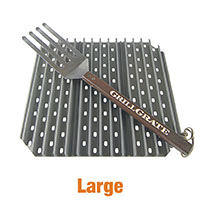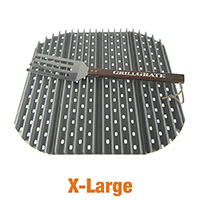 ---
The GrillGate Difference

:
No Flare-Ups: GrillGrates prevent flames from burning, charring and drying out food
Even Heat: Hard anodized aluminum heats food evenly. No more hot spots or cold spots.
Juicier Food: Moister vaporizes on the GrillGrate, surrounding food in flavorful steam.
More Flavor: Drippings sizzle in the valleys and back onto the food as more flavor.
Perfect Sear Marks: Heat is concentrated up the raised rails leaving beautiful sear marks.
Reversible Panels: Use GrillGrates rails up for traditional grilling or flip them over for a flat top surface.
How It Works:

Why GrillGrates grill food better…a lot better!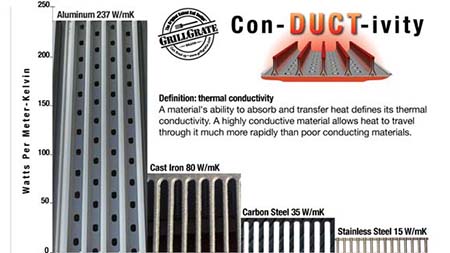 GrillGrates cook by conduction (contact), convection (hot air) and infrared (radiant heat), resulting in juicier more evenly cooked food. There are five elements to the Science of GrillGrate:
Amplifies the Heat of any Grill
Flare-Up Protection from the Bottom Plate
Conducts Heat More Efficiently
The Valley Vaporizes Drippings
Perfect Sear Marks

---
More GrillGrate Resources: