Turn your Big Green Egg into a wood-fired pizza oven with the Pizza-Porta.
By capping off the top of the and accessing food through a door, the Pizza-Porta optimizes the oven functions of the Egg providing you with consistent, even temperatures for hours of pizza cooking or hearth baking.
The Pizza-Porta is available in-store at Georgia Spa Company for the large and XL Big Green Eggs.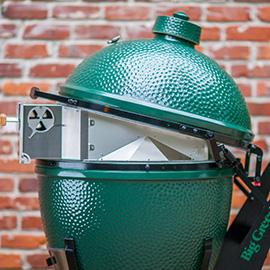 How It Works
Without the Pizza-Porta (left): Fire heats the plate setter, which heats the bottom of the pizza stone.  The dome does heat up as the heat rises and escapes through the chimney, but the challenge is that the heat is exiting so rapidly that it is difficult to get the dome hot enough to cook the top of the pizza.
With the Pizza-Porta Installed (right): The interior stone setup is the same. The performance difference is due to the modification of the cooking chamber. Heat is concentrated in the dome area, heating the ceramic of the dome to balance with the surface temperature of the pizza stone. Heat must also pass over the pizza to escape out the side vents resulting in convection cooking.
The Result: Amazing Pizza!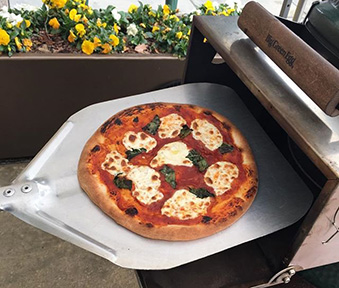 ---
More Pizza-Porta Resources