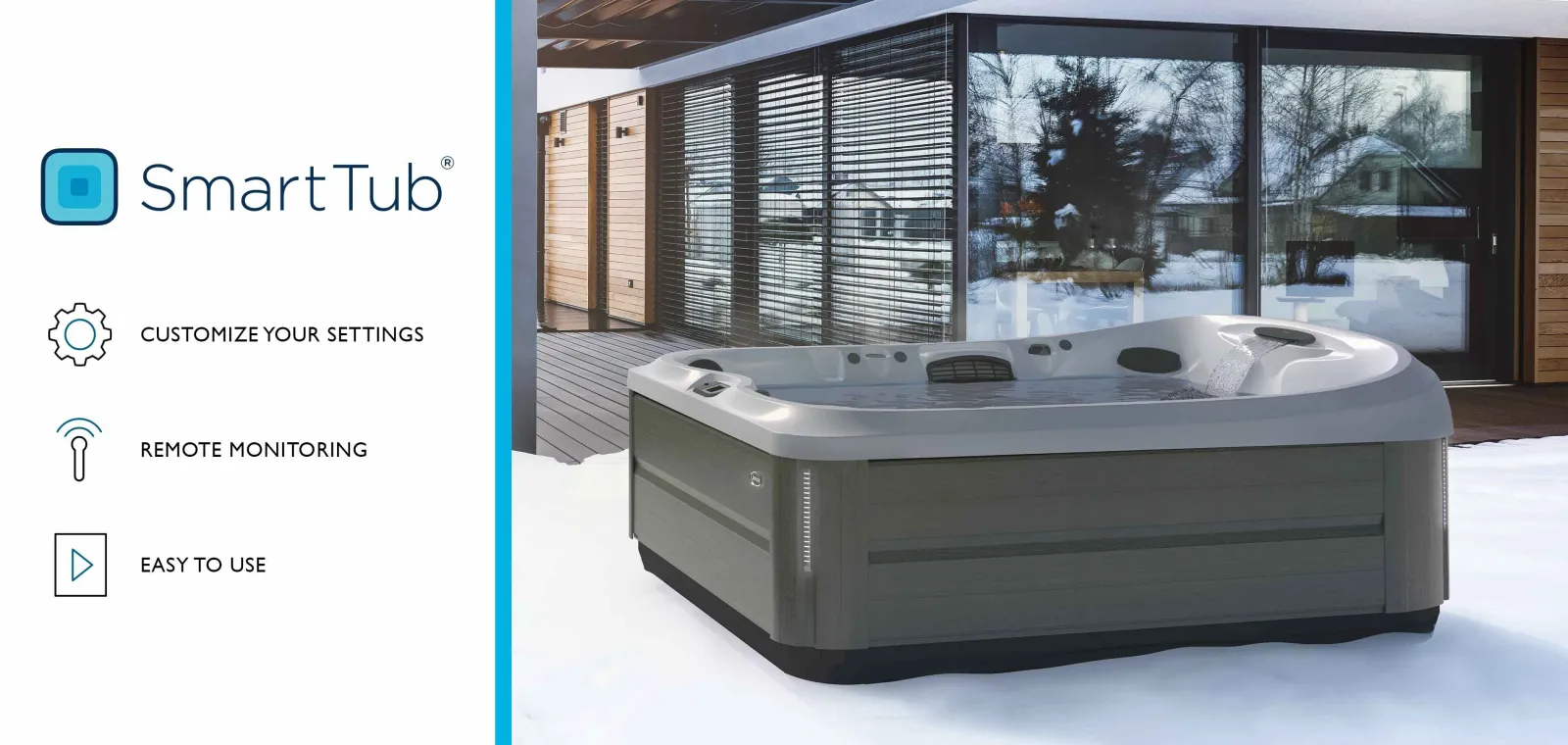 SmartTub® System Benefits
Customize Your Settings
Control energy savings and filtration
Change temperature, lighting, and jets
Manage your vacation home hot tub
Remote Monitoring
Sends real-time alerts & diagnostics to the dealer
Delivers energy usage reports
Relays power outage notifications
Easy To Use
Always connected with cellular based service
Activate hot tub with your Smart Home device
Cellular Vs. Wi-fi
Cellular
The SmartTub® System incorporates the best technologies for connected products, leveraging the fact that hot tubs are located outdoors. Directly connect to local cell towers, we partner with major wireless carriers around the world to ensure stable networks with maximized performance without affecting your personal cellular plan.

Cell Service Requirements
The SmartTub® system uses cellular-based communication and requires cell service from our provider partner in your area. Verify coverage here:
* Requires subscription beginning in second year of ownership
**Estimates are based on sensor readings and are not meant to match your utility measurements, see your local utility company for specifics to your local system
IMPORTANT NOTICE. Some hot tubs are equipped with the SmartTub® System that has the capability of providing maintenance and diagnostic information to the user's local authorized Jacuzzi® dealer and Jacuzzi® Hot Tubs, as well as allowing the user to send signals to the hot tub. The SmartTub® System is a remote system that relies on connections of cellular components at the time a signal or message is sent, to communicate. The system is for the convenience of the consumer/owner of the hot tub, and does not take the place of regular physical inspection and maintenance of a hot tub. The remote system should not be relied upon as a substitute for regular physical inspection and monitoring of the hot tub. If for any reason the cellular connection of either the sender or recipient is not active at the time the system attempts to send a signal, the signal or message will not be sent/received. Further, neither Jacuzzi® Hot Tubs nor its independent and authorized dealers represent they will initiate any contact with a consumer if a signal or message is received. Jacuzzi® Hot Tubs, its parent, subsidiary, and related entities, as well as independent and authorized Jacuzzi® dealers, expressly disclaim all liability, including liability based on negligence, breach of contract, product defect or any other cause of action, as well as any damages, alleged to have resulted from a consumer's use or reliance on the SmartTub® System. Click Here to view our End User License Agreement. See our Jacuzzi® Hot Tubs Privacy Statement for additional terms.
To know more information, please view our Privacy & Terms.
Request More Information
Use this form to request information about any product or service that we have to offer.
Customer service is our top priority. When you request information through our website, we will route it right away to the person from our organization who is best suited to giving you the right answers. We try to get to every request as soon as possible but please allow 1-2 days for responses.