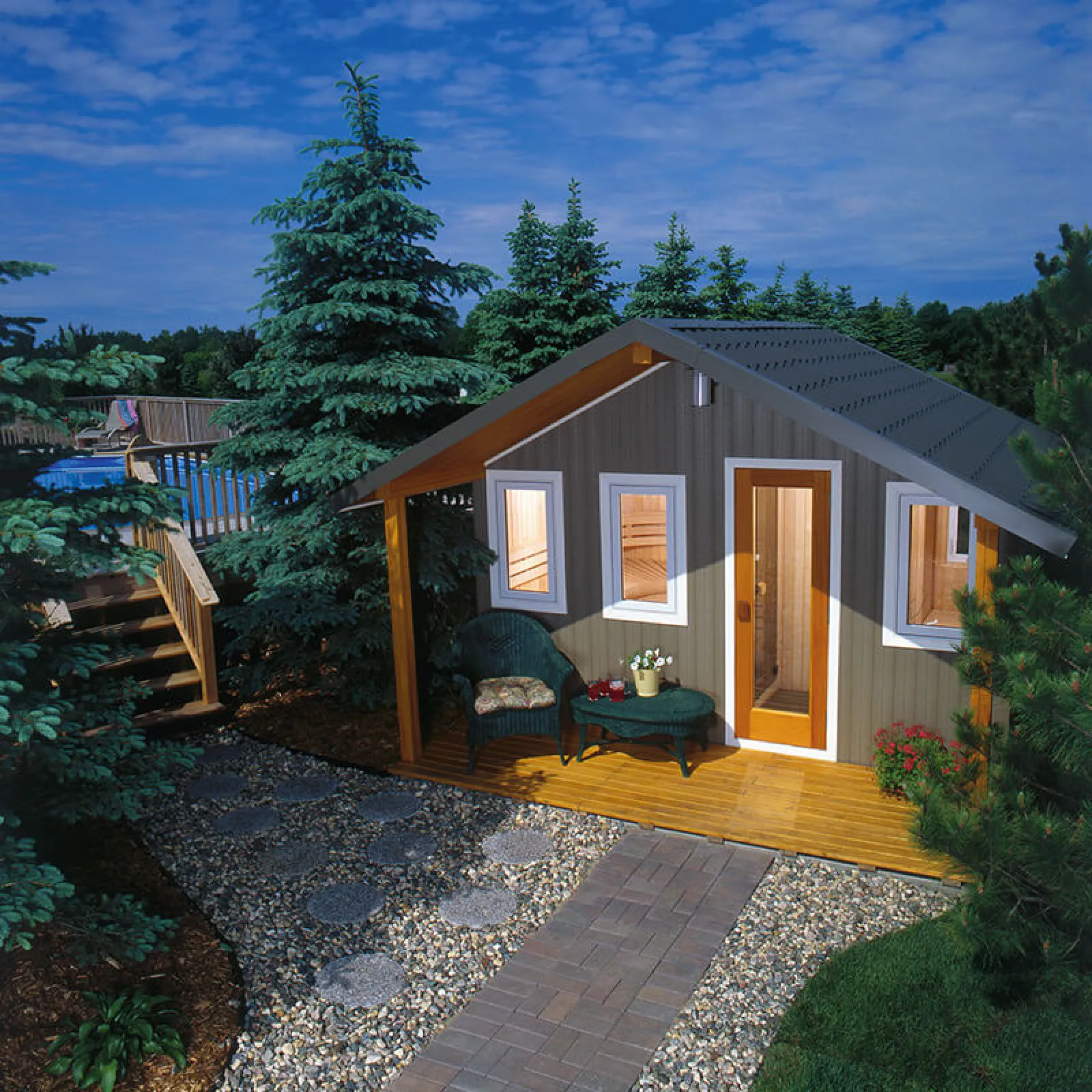 Metro Sauna
Is there a better way to spend quality time at home than with family and friends in the backyard? Finnleo Metro saunas fit right in with outdoor entertaining: always inviting and always rewarding. Metro is an excellent option for pool owners. Three of the four Metro models include spacious changing rooms, which means they can easily double as a pool-house. And the swimming season can be extended, maybe even year-round, as you'll be able to enjoy the deep, gentle heat of the sauna before taking a refreshing plunge.
Go a step further to add a shower and/or a toilet into the changing room, and you'll avoid pool-users tracking wet feet into the house. Metro offers the comfort and luxury of the pure sauna experience, yet is surprisingly easy to assemble. The walls and roof are constructed of 4-1/4" insulated panels. finished on both sides. The interior features quality tongue-and-groove Nordic White Spruce — in both the sauna and changing room.

Features & Options
Metro brings modern sauna comfort and luxury to your backyard. Perfect for outdoor entertaining, Metro is at its best near the patio, pool or lake — if pool or lake side, you and your guests will be able to enjoy the ultimate experience of "sauna with a cool water plunge." Beautiful, durable, welcoming: Metro is an ongoing invitation to enjoy your great outdoors.

Features

Four sizes/models with all-glass interior door
Insulated 4-1/4" panels for walls, ceiling and roof
Nordic Spruce T&G on interior
Cedar exterior
Changing room standard on MS 710, 811 and 812
Prehung exterior door with window and grid (optional)
Sauna interior includes Abachi pre-built benches, backrests, headrests, heater guard, floor boards
Sauna heater, rocks and separate control panel
Bucket, ladle, one or two wall lights, thermometer
Changing room interior includes pre-built bench, backrest and 4-peg clothes hanger
Windows with insulated, tempered glass and grids (optional)
Options

Metal roofing, dark brown
Crank-out screened windows
Get the latest
Finnleo® pricing!
Your privacy is important to us. We will not share your information with anyone.
We will periodically contact you with exclusive promotional offers and product news.
You may unsubscribe at any time.