The Ultimate Hot Tub Buyer's Tips
Choosing The Perfect Hot Tub
Buying a hot tub can be trickier than you may think with a multitude of factors to consider. Not only do you have to find the right hot tub for your home and budget, but you will also need to consider delivery options and where to buy your hot tub. Don't worry though, we will break it all down in this all-encompassing guide to make your hot tub buying experience as smooth as possible.

The Types Of Hot Tubs
Plug & Play Hot Tubs
Plug & play hot tubs resemble smaller traditional hard-shell hot tubs and can be plugged into any standard 110-volt outlet. They feature multiple jets, a control panel, a deep water level, bench or lounge seating, and are generally easy to move and install.
Although Plug & Play hot tubs are insulated and are more energy-efficient than inflatable hot tubs, the 110-volt power supply does cause it to be less energy efficient than traditional 240-volt hot tubs. The small power supply also means that there is usually not enough power for the filters and heater to run at the same time meaning they have to cycle which can reduce heat-up times, and limits the amount of jets that can be included in the hot tub. The small power supply also limits the size of the hot tub. If you are looking for a low-investment, an entry-level hot tub that gets the job done and will last many years, a plug & play hot tub may be the perfect choice for your home.
Traditional Hot Tubs
Traditional hot tubs are in most cases larger than plug & play hot tubs and have a larger power supply. Traditional hot tubs have to be professionally wired into your homes 240v wiring. Because of this, they can be far larger than the other types of hot tubs, and can include many more jets, have better filters, heat up much faster, and are more energy-efficient.
Traditional hot tubs are the usual choice for homeowners, and are the most expensive out of the three types of hot tubs. Traditional hot tubs also require more effort to set up due to their power needs and their heavy weight. This usually means that a concrete slab be poured for the hot tub's foundation. If your home is in an especially difficult position, the hot tub may need to be craned into position.

Water Care Options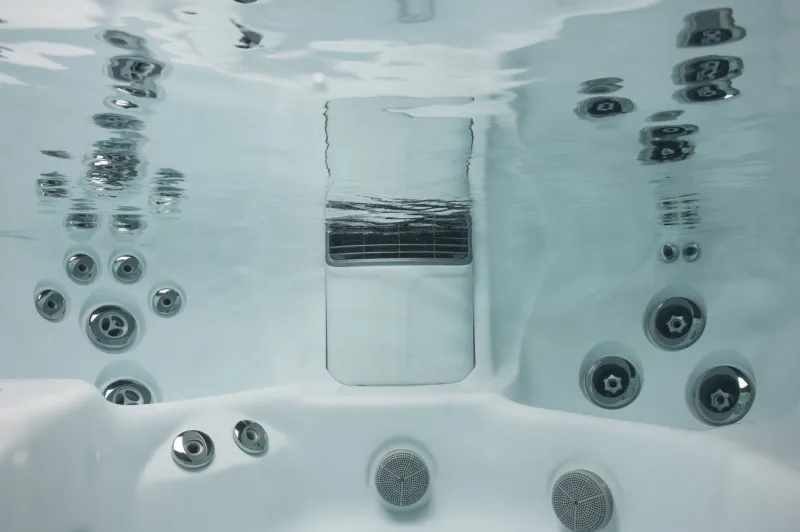 Salt-Water Systems

Saltwater systems are specifically found on high-end hot tubs including the Hot Spring Spas Highlife and Limelight collections. These systems are widely regarded as the pinnacle of water care systems due to their ease of use and low maintenance. With just a little salt added to your spa's water, the system will automatically generate chlorine when needed to keep your spa water clean and clear for up to a full year until you have to drain and refill. Other than simple routine adjustment, the system runs off of disposable cartridges that last 4 months. So with three cartridges and routinely adjusting your system, you can avoid having to drain and refill your water for up to a year!

Manual Water Care

Traditional water care means the spa owner manually adds Chlorine or Bromine to the spa. You should only purchase chemicals from an authorized hot tub dealer like us to make sure you get the highest quality products to assure your spa and water stay healthy. The amount of maintenance required by the spa owner depends on how frequently they use the hot tub. With regular hot tub use, the spa water should be checked with a test strip to ensure the proper balance is maintained.

Ozone Systems

Ozone with MPS and Silver Ions is slightly more expensive than traditional water care. It is still a fairly manual process but requires a little less interaction from the spa owner than manually adding chlorine or bromine. Spa owners enjoy this system because it only requires a very small amount of chlorine and chemicals.

Ozone systems were once considered the best water care option for hot tubs and have since become the industry standard for hot tub water care in most middle-tier hot tubs. Ozone water care systems use powerful oxidizers - ozone and MPS - with silver ions to decrease the need for chlorine. Once the Ozone unit is installed, it continually releases tiny ozone bubbles into the spa water. The silver ion cartridge then automatically releases silver ions into the water that inhibit the growth of bacteria. The spa owner then has to manually add MPS to the spa with each use, and a small amount of chlorine once a week. The silver ion cartridge should be replaced every three months, and the ozone unit will need to be replaced every 4-5 years.

Get our Buyer's Guide
Learn more useful information on how to select and buy a hot tub.

What Brands Do We Offer?
With more and more hot tub manufactures entering the market, we find it increasingly important to partner with the best hot tub brands. The number of factors we consider when offering hot tubs are quite large: selection of sizes, accessories, warranty, quality, design, jet technology, price, customizable options and more. With our knowledge of the hot tub industry we have selected the very best brands.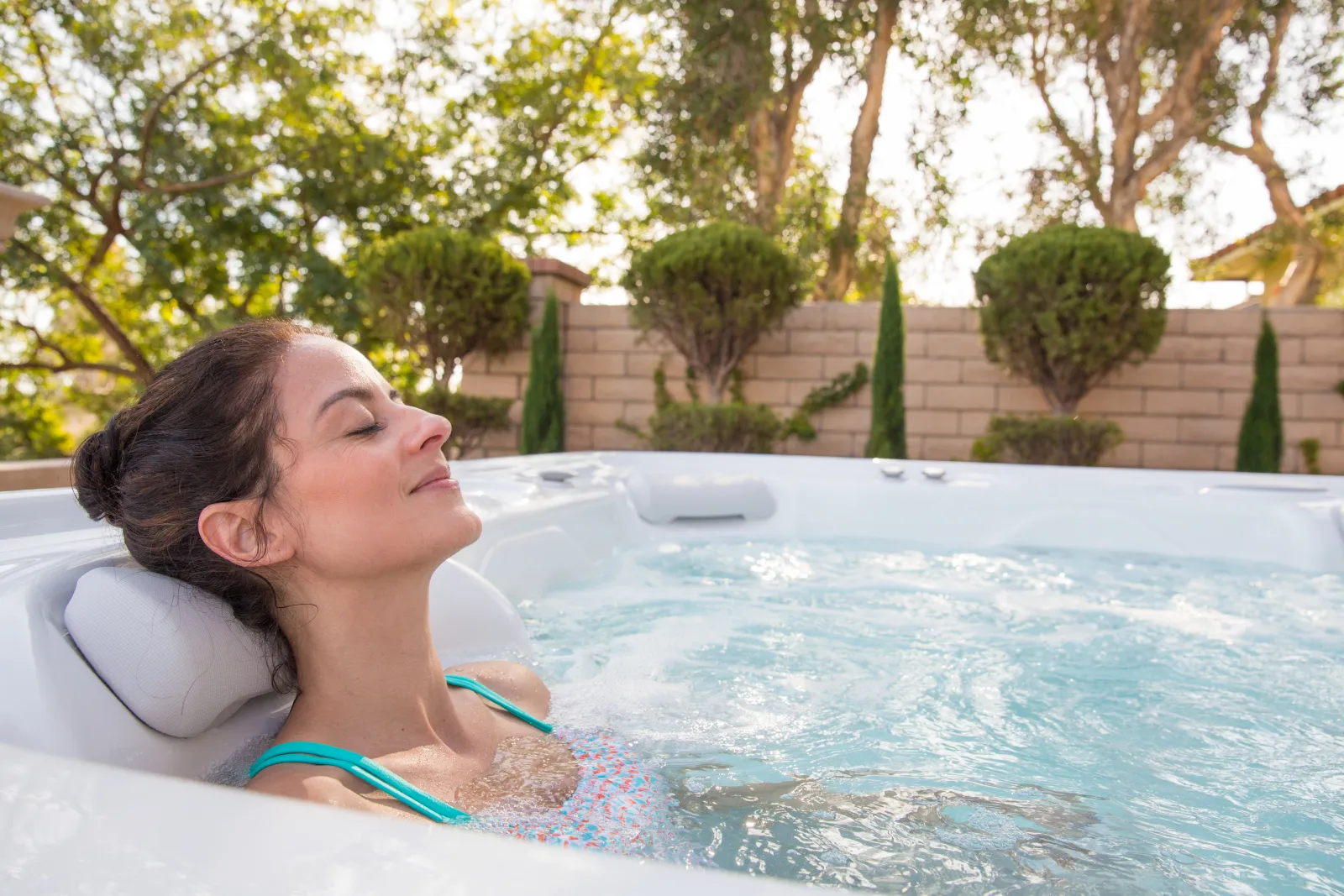 Hot Spring Spas
Hot Spring Spas tops our list for a multitude of reasons. Besides from being the World's #1 selling Hot Tub brand, the features, design, and longevity of these hot tubs are unmatched. Hot Spring recently collaborated with DesignWorks, a BMW company the specializes in blending modern design with ergonomic comfort, and it shows in the design of their newer spas.
Hot Spring Spas are well known for their long lifespan, and their nationwide dealer network in always stocked with parts for their new and old models. This provides a level of customer service and reliability that is unmatched in the industry.
Another unique feature of Hot Spring Spas is their innovative Saltwater system. Its patented design keeps spa water clean and clear by generating chlorine from a small amount of salt in your spa's water. This unique system reduces the usual chemical smell, and skin irritation that traditional water care systems can cause. This system also requires very little maintenance when compared to other water care options.
The last feature we love about Hot Spring Spas is their jet technology paired with their easy to use control panels. In their Flagship Highlife Collection, you get a detachable touchscreen display that you can use to customize your aqua massage experience. Hot Spring Spas features some of the most unique jet technology, such as their unique motorized jets that sweep up and down your back.
Hot Spring Spas have three lines of hot tubs ranging from entry-level to ultra-luxurious. If you are looking for a reliable, long lasting hot tub that will provide the best technology in the hot tub industry, then Hot Spring Spas is the brand to go with.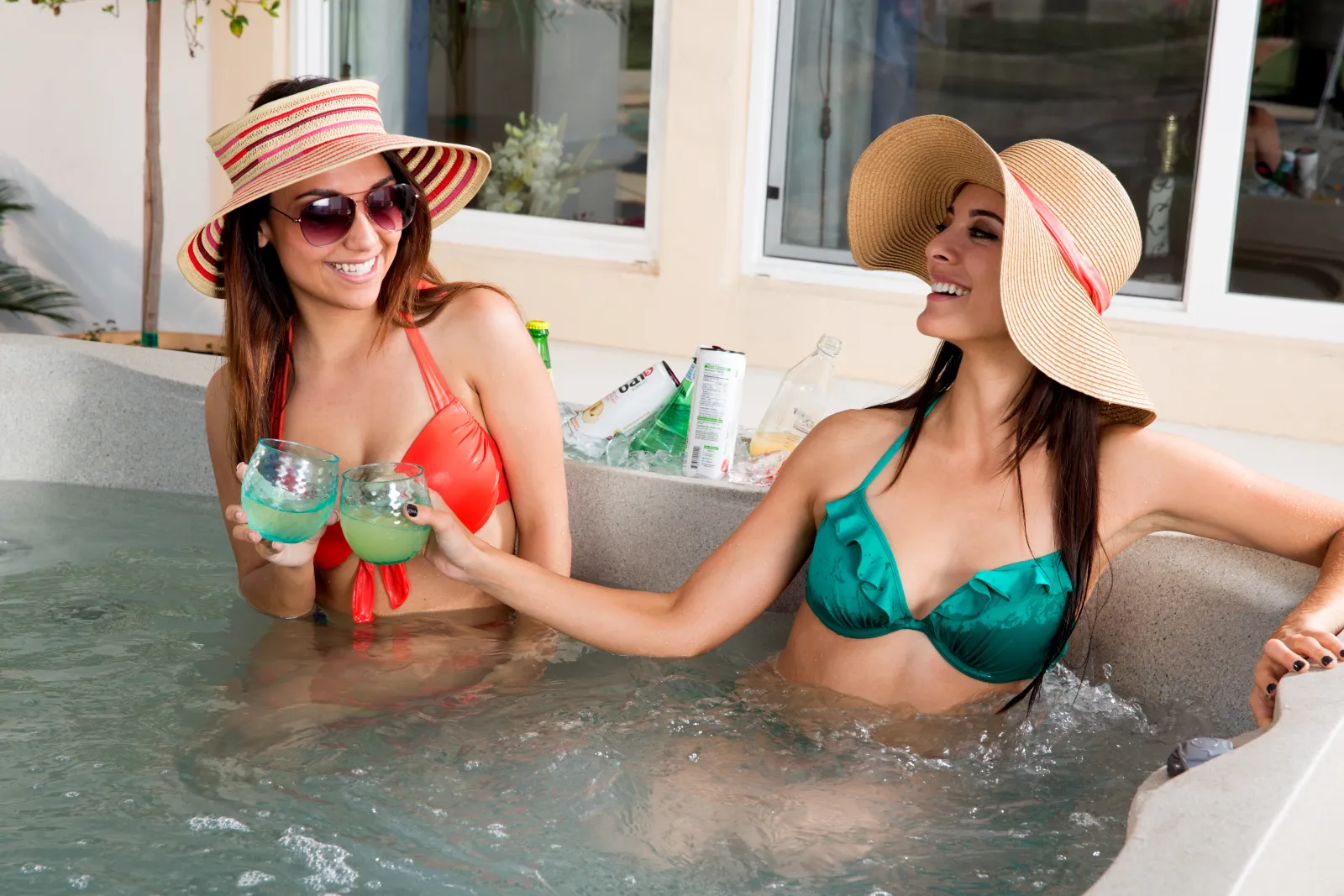 Freeflow Spas
Freeflow Spas offer a range of affordable, plug-in style hot tubs that are both portable and reliable. Rated #1 in value by TradeCertified for 2020, these hot tubs are incredibly durable yet come in at an affordable price point. Like Hot Spring Spas, these hot tubs are manufactured by Watkins Wellness which means that you can expect unmatched quality and reliability.

Installing Your Hot Tub
Where Can I Put a Hot Tub?
When purchasing a hot tub, where you will put it will be the first question that needs answering. Hot tubs are quite heavy when filled, and will need a solid and level foundation to sit on. When considering your hot tub's foundation, there are four main options to choose between: a spa pad, pouring a concrete slab, a wooden deck, or pavers. Each method will vary in styling, functionality, and price. For those working on a budget, spa pads can create a simple and easy foundation for your hot tub with minimal cost and effort, they usually come in the form of interlocking thick rubber pads that form a solid base for your hot tub. The simplest and most common foundation is a concrete slab.
Pouring a concrete slab will also be relatively inexpensive and quick. Concrete slabs are very durable and will easily last the life of your spa. Another common place hot tub owners like to house their spas are wooden decks. While most wooden decks are stable enough to uphold the full weight of a filled hot tub, you will need to call in an expert to assess that your deck is structurally sound enough.
Another option is to blend a concrete slab with a wooden deck. Some homeowners choose to place their hot tubs on a concrete slab under their deck, with the top of the hot tub seamlessly rising through for easy access. The last method that is commonly used, is placing your hot tub on pavers, many homes already have areas covered in pavers, and can be used as a solid foundation for your spa.

How Much Does Installation Cost?
The cost of your hot tub foundation can range from 0-$1,000+ depending on if you already have a solid foundation, or if you decide to build a custom deck for your hot tub. For reference, spa pads range in price from $100 to $500, and concrete slabs range from $900 - $2,000. The cost of having a professional electrician wire a hot tub usually ranges from $200 - $500. Delivery can also be costly if you require a crane to lift the hot tub into your backyard, which can cost between $500 - $1,000. Usually, a portion of a fence Is taken down, and a hot tub will be carried into place by multiple people.