A Compact
Hot Tub
Compact without compromise. Designed to fit small spaces but with an interior that feels spacious, the Ravello is the perfect 3-person hot tub to provide the transformation you crave. The Ravello delivers the ultimate soaking experience with two powerful ReliaFlo pumps, 39 perfectly positioned jets and the UltraMassage® lounge that soothes muscles from head to toe.
Designed to
Delight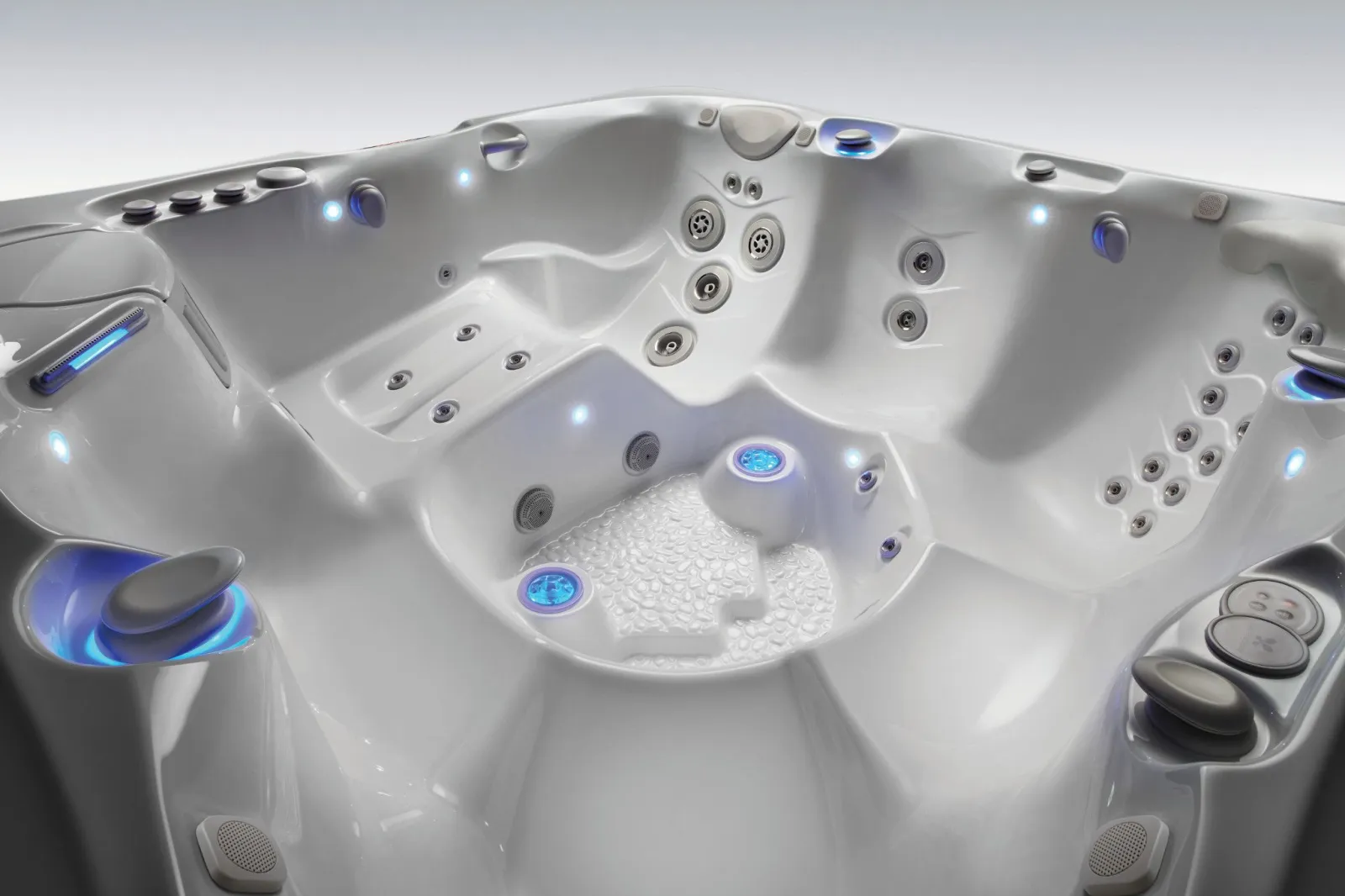 Seats & Jets
Take a seat. You'll immediately feel the Caldera difference, thanks to the unique, body-hugging contours and ergonomically designed configurations. Utopia Series spas take jet massage to a new level with added hip, wrist, and neck jets for a full body experience.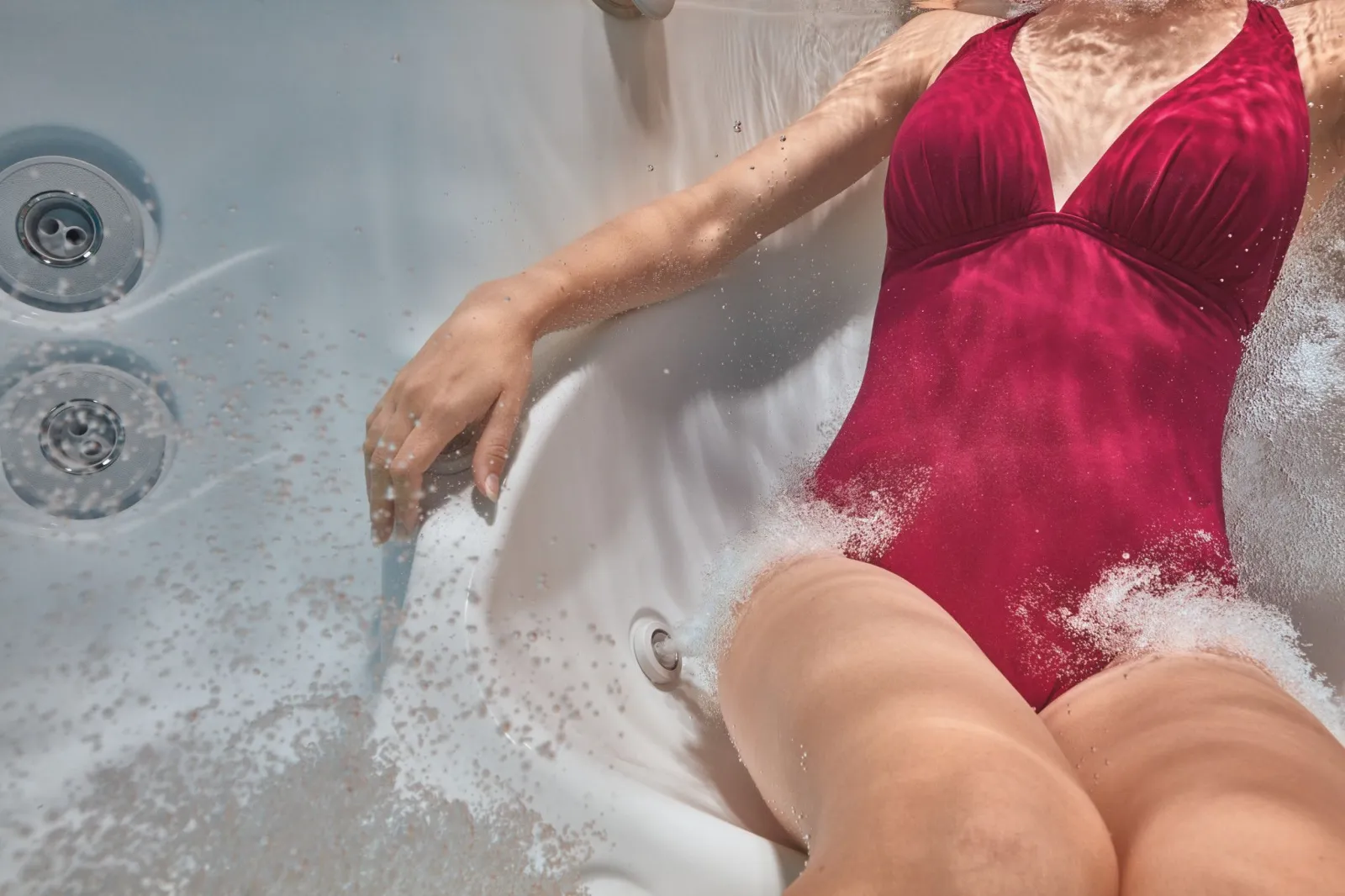 Hot Tub Circuit Therapy®
Each Utopia model has up to eight Hot Tub Circuit Therapy® stations. Rotate through the circuit for a full body massage or just concentrate on the areas that need the most attention. Experience transformation in just 20 minutes.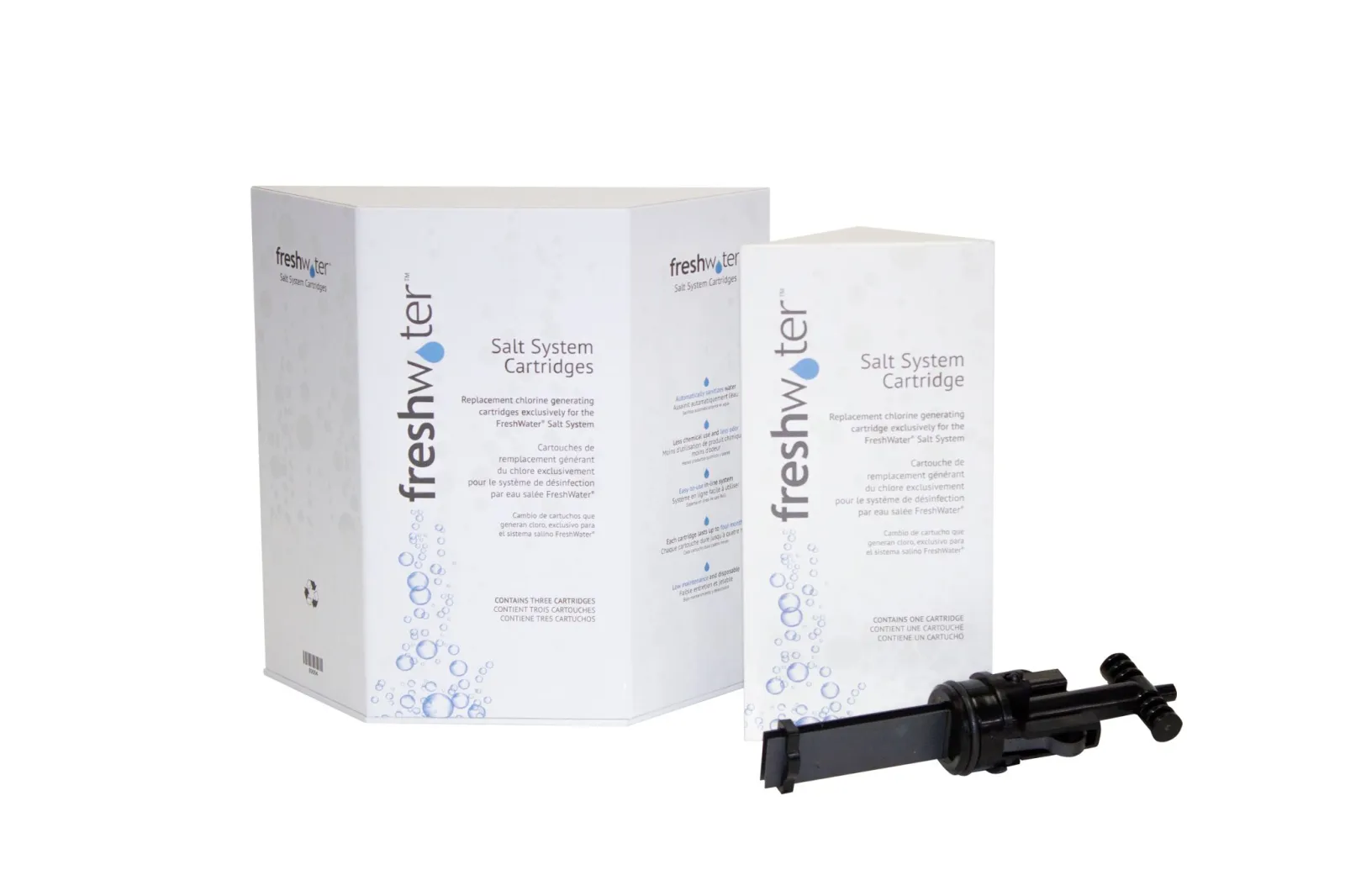 FreshWater® Salt System
The FreshWater® Salt System creates longer-lasting, natural-feeling water with very little effort on your part. It's the Simpler, Cleaner, Fresher Way to Hot Tub.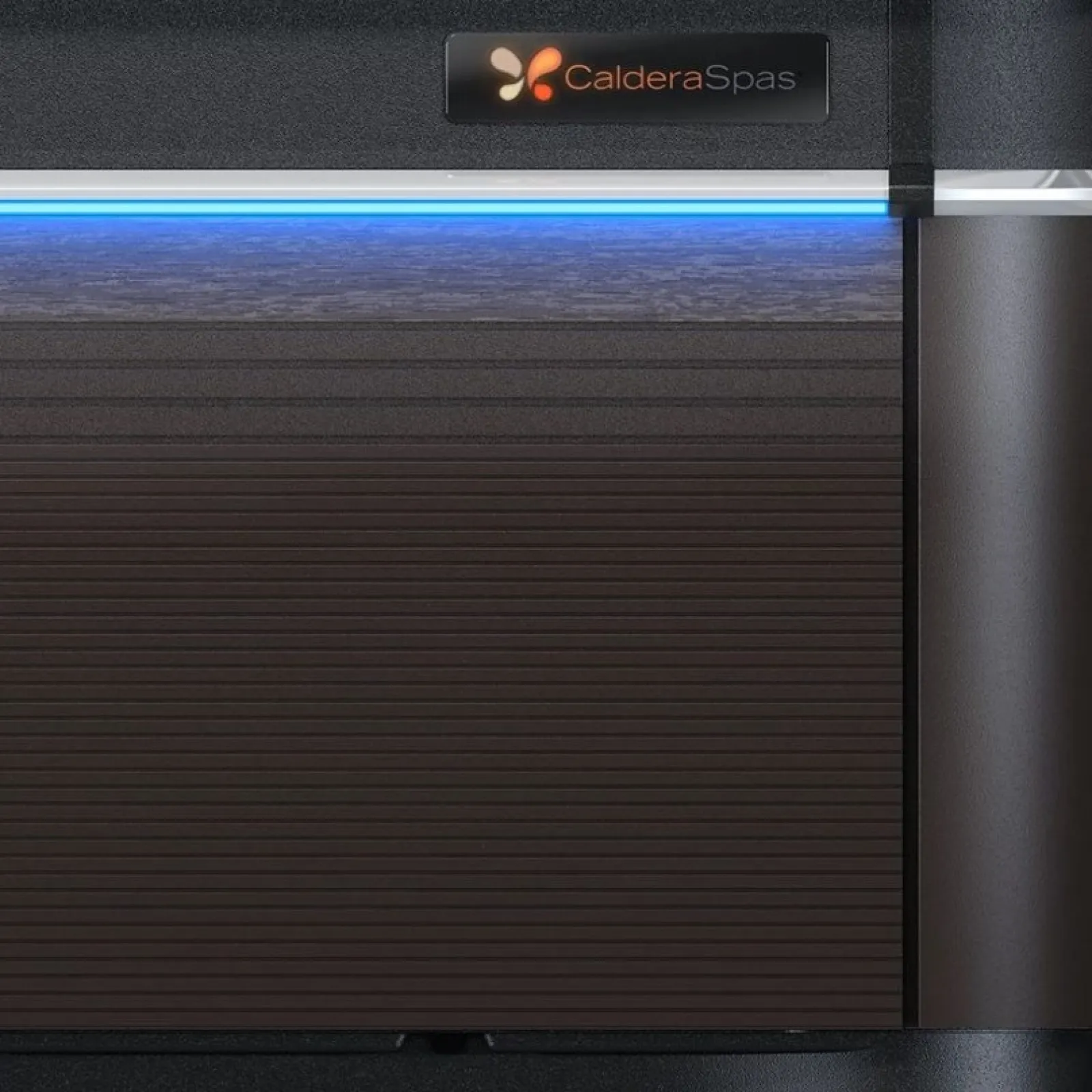 EcoTech® Plus
Strength meets style with the EcoTech® Plus cabinet. Available in three contemporary colors, our premium cabinet includes a modern black header, wood grain accent, stainless-steel trim and integrated LED light bar that will complement any backyard aesthetic.
Touchscreen Controls
Easily adjust jets, lighting, optional wireless sound system, and optional FreshWater Salt System with the intuitive Advent® touchscreen control panel. Each Utopia model also features an auxiliary control panel, so you can adjust jets and lights from a secondary location within the spa.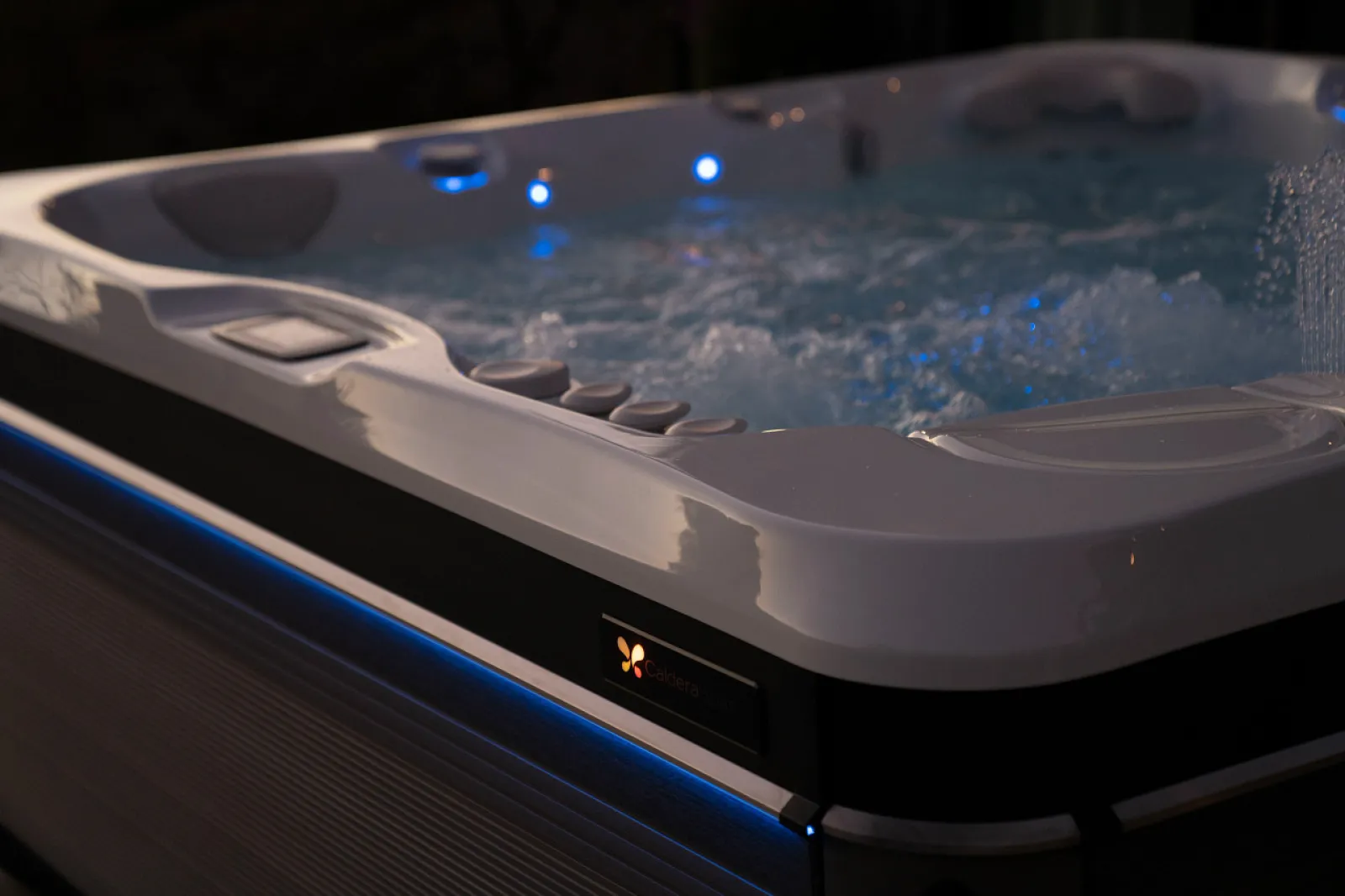 Lighting
Create a special ambiance with the adjustable SpaGlo® lighting system that accents individual zones throughout the spa, such as bar top, footwell, waterfall, and exterior front panel.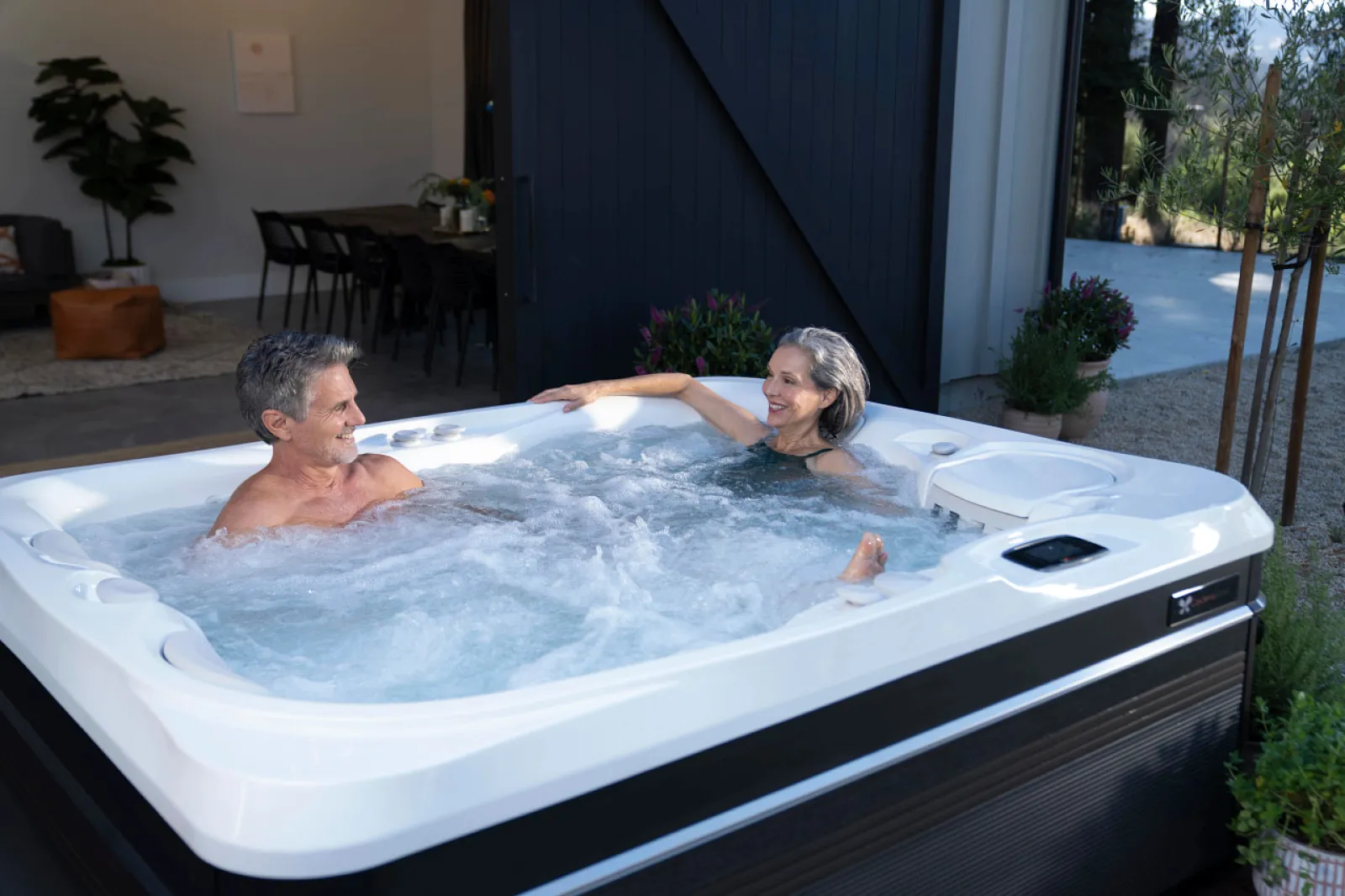 Entertainment
Music-ready Utopia models include low profile integrated speakers that can be paired with our Bluetooth® wireless sound system. You can also enjoy live TV and streaming video from the comfort of your spa with the optional 22" 1080P wireless monitor with anti-glare screen and optional vinyl cover.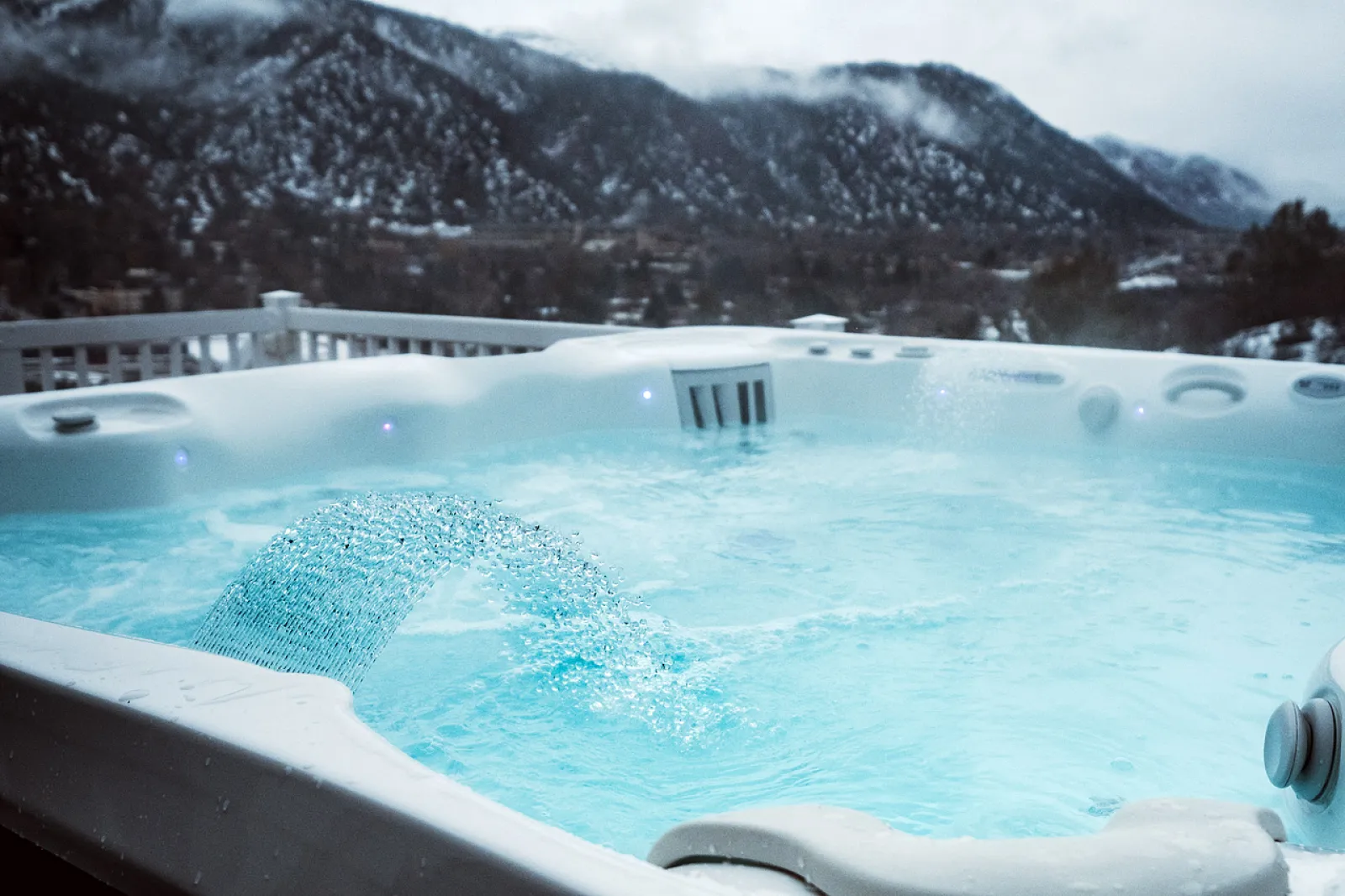 Energy Efficiency
In addition to the energy saving features built into every Caldera spa, the Utopia series features a thermal isolated base pan that beautifully frames the bottom of the spa while minimizing ground contact and improving energy efficiency. The EnergyPro circulation pump in our Utopia Series spas saves you money by operating at a very low wattage to filter water. Heater use is reduced, as energy used to operate the pump is transferred back to the water as heat.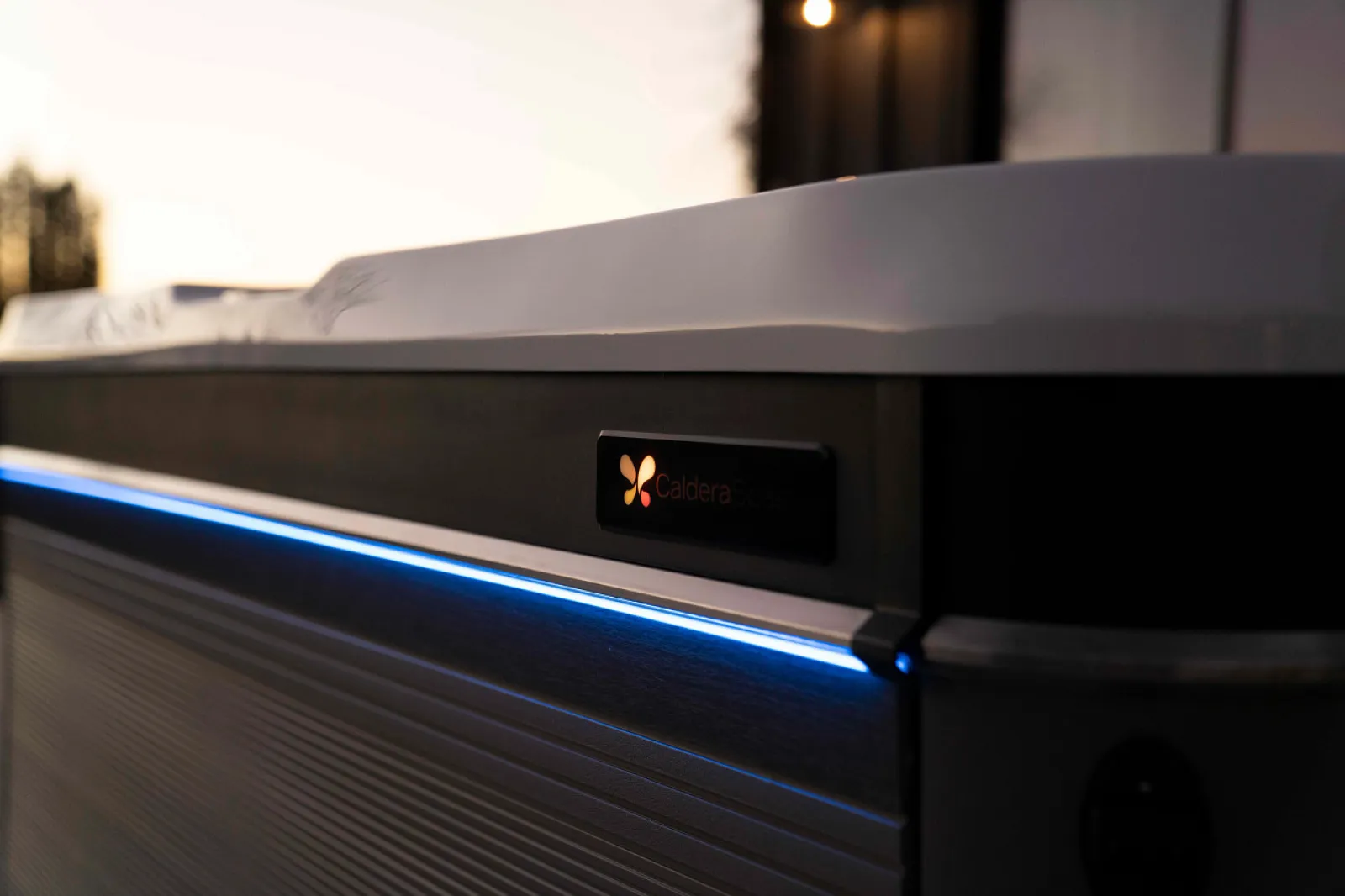 On/Ready Logo Light
Each Utopia model features an illuminated Caldera logo badge which lets you know at a glance when your water is at the set temperature. It also indicates if your spa needs maintenance, a filter change, or service.

Features
That Transform
FRESHWATER® SALT SYSTEM

Longer lasting, natural-feeling water that won't irritate eyes or dry out skin.

ECOTECH® PLUS CABINET

Our premium cabinet includes a modern black header, wood grain accent, stainless-steel trim and integrated LED light bar that will complement any backyard aesthetic.

ULTRAMASSEUSE® SYSTEM

Customize your massage with six different jet sequences and three speeds.

Ravello
Specifications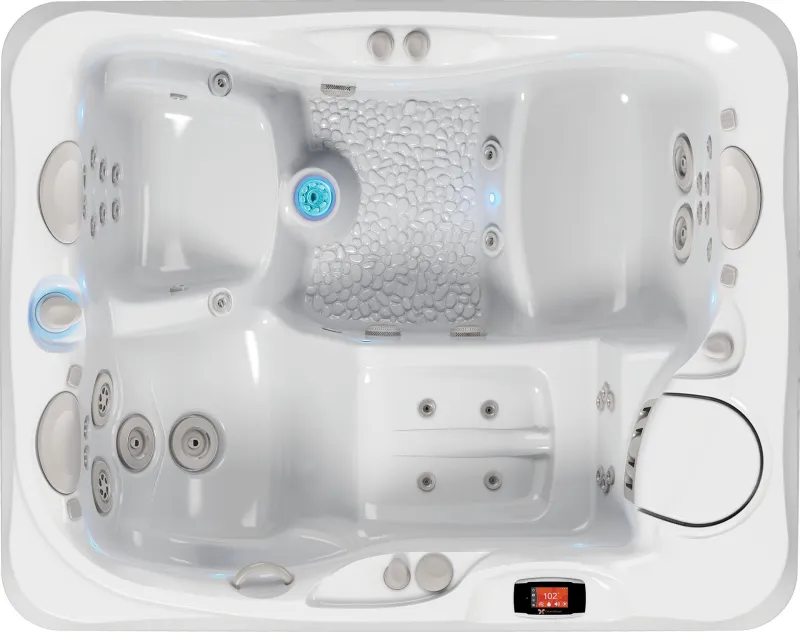 Primary Specs

Seating Capacity
3 Adults
Dimensions
7' x 5'6" x 33" / 213cm x 168cm x 84cm
Water Capacity
230 gallons / 875 liters
Weight (dry)
800 lbs. / 365 kg
Weight (filled)
3,245 lbs. / 1,480 kg
Heater Output
EnergyPro® Titanium Heater 4,000 Watts 230v
Electrical Requirements
230V / 50 amp
GFCI Sub-Panel
GFCI Sub-panel (50 amp) included
Filter Size
75 sq. ft. filter
Massage

| | |
| --- | --- |
| Jet Count | 39 Total Jets |
| Jets | 1 Euphoria® jet, 2 OrbiSsage® jets, 4 VersaSsage® jets, 2 Euro-Pulse® jets, 30 Euro Directional jets |
| Ultramasseuse System | N/A |
| Jet Pumps | 2 ReliaFlo® Pumps; 1 Dual-Speed 2.5 HP (5.2BHP) & 1 Single-Speed 2.5HP (5.2 BHP) |
Clean Water

| | |
| --- | --- |
| Water Care Systems | FreshWater® Salt System Ready |
| Circulation Pump | EnergyPro® Circulation Pump |
Energy Efficiency

| | |
| --- | --- |
| Energy Efficiency | Fully-insulated with FiberCor® material, 2 lb. density, CEC-compliant |
| Insulating Cover | 3.5" to 2.5" tapered, 2 lb.-density foam core |
| Bottom Seal | ABS Base Plan |
Intuitive Control

| | |
| --- | --- |
| Control System | Advent® LCD Touchscreen 230v/50amp, 60Hz, Includes G.F.C.I. protected sub-panel |
Design

| | |
| --- | --- |
| Branding | Diagnostic Logo Light mounted in Spacer (between shell and cabinet) |
| Spa Shell Options | Arctic White, White Pearl, Platinum, Tuscan Sun, or Midnight Canyon |
| Cabinet Type | EcoTech® Plus |
| Cabinet & Step Colors | Java, Ash & Parchment |
| Water Feature | N/A |
| Multi-Color LED Lighting | SpaGlo® Multi-zone LED Lighting with 7 Points-of-Interior Lights & Exterior Light Light Bar |
| Cover Lifter | ProLift® III, or ProLift® II |
| Cover Colors | Chocolate, Slate, Taupe |
| Cover Design | Curved front skirt |
Optional Accessories

| | |
| --- | --- |
| Music System | 4 - 1.5" square |
| Entertainment System | (Optional) Wireless Bluetooth® Audio System |
| Step Type | (Optional) Utopia® Step in Java, Ash & Parchment |
| Ozone System | (Optional) Corona Discharge |
| Smart Spa Technology | (Optional) Caldera Spas App, Powered by the Connected Spa Kit |
Hot Tub
Essentials
Covers
Each hot tub comes equipped with a custom-built cover, made to the exact measurements of your spa. This ensures a tight seal for optimum energy efficiency. The durable, marine-grade vinyl cover includes child safety locks and is UL listed in compliance with ASTM standards.

Cover Lifters
A hot tub cover lifter is an essential spa accessory that protects your spa, the cover, and your investment. Designed to allow one person to effortlessly remove and replace the cover, a lifter makes it easy for you to be in your spa in seconds.

Get Pricing
Your privacy is important to us. We will not share your information with anyone.
We will periodically contact you with exclusive promotional offers and product news.
You may unsubscribe at any time