Barrel Saunas
Specifications:
Canadian Knotty Cedar construction with solid wood cradles.
Sold cedar door frame with full glass bronze tempered window.
Marine grade aluminum bands with stainless steel tightening hardware.
Sauna Room: 7' diameter x 6' long
Front Porch: 2' long; Provides comfortable cooling down seating area.
Total Length: 95"
Walls: 1.5" thick
Flat Floor: Great for walking on and removable for easy cleaning.
Bevel Siding Roof: EPDM Rubber roof with cedar bevel siding and trim on front and back.
Finnleo Designer-B 6kW Heater (Build-In Controls)
Electrical: 240V/30a, HW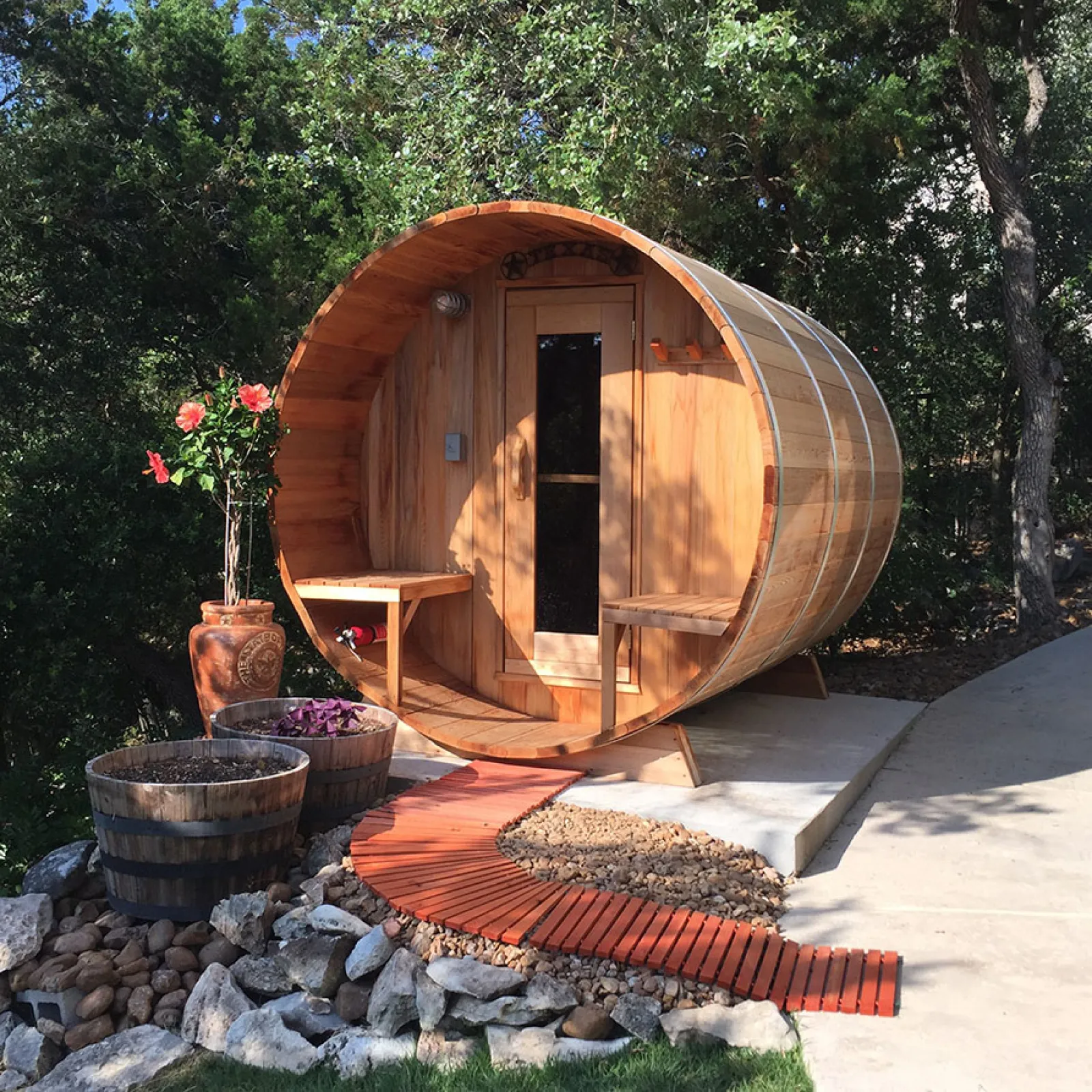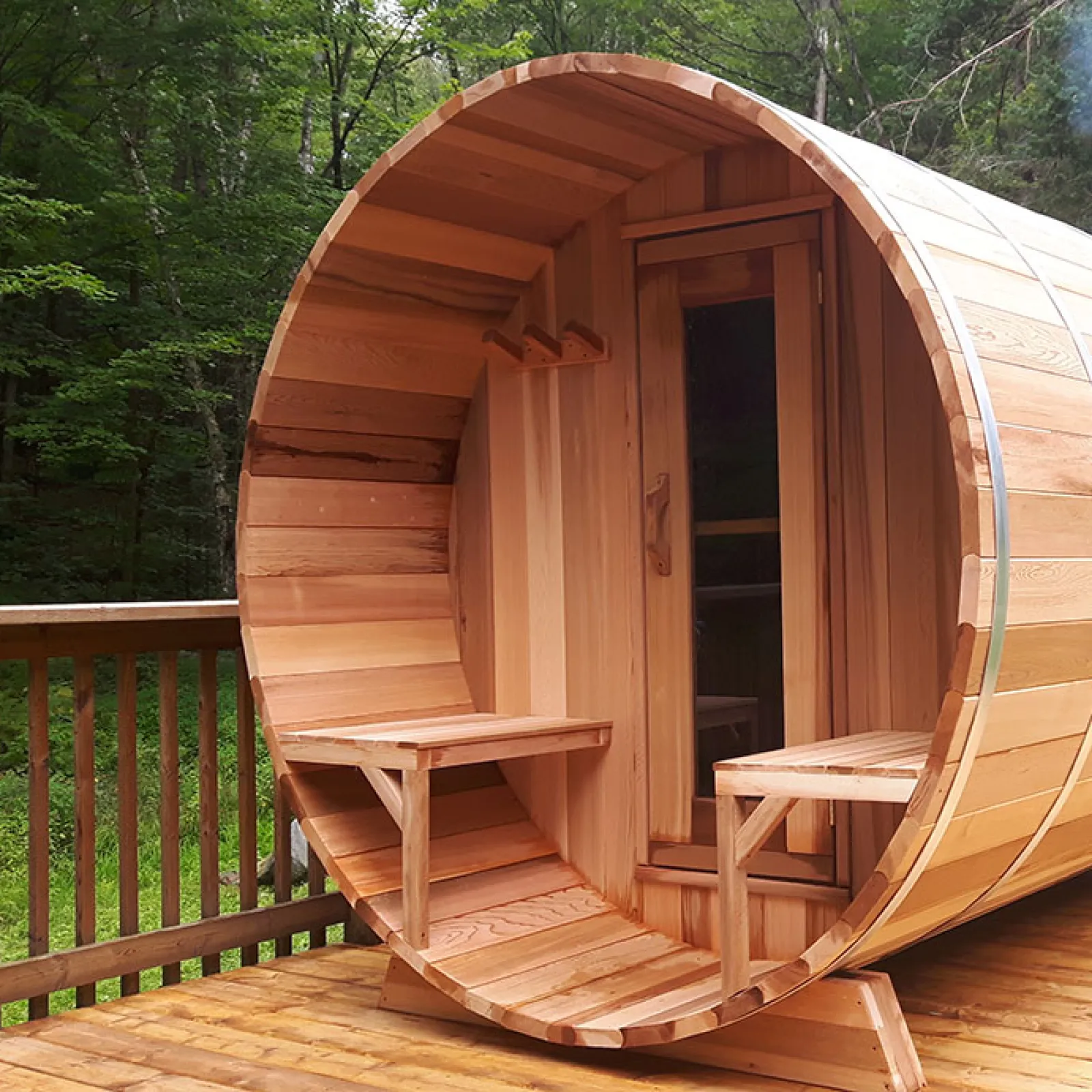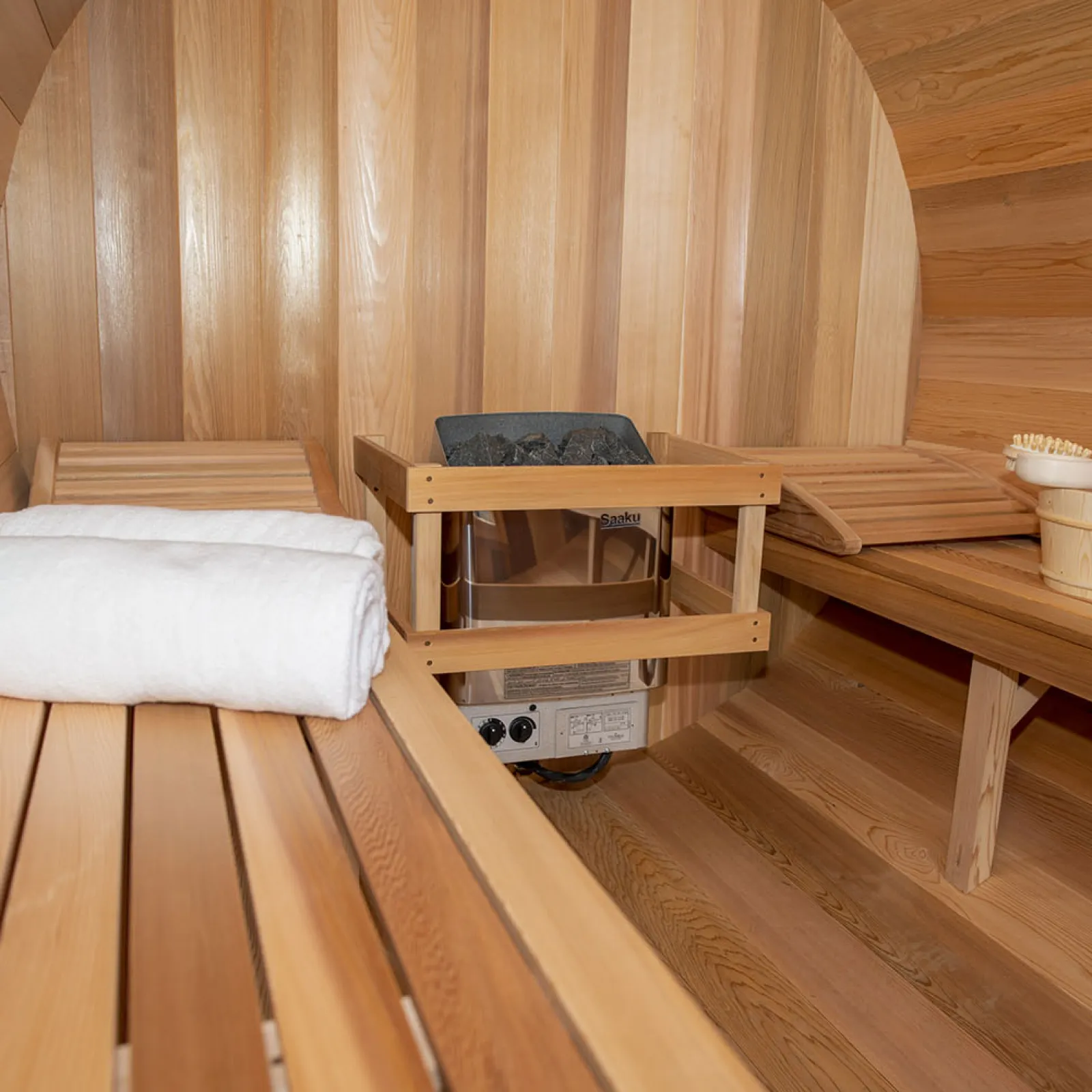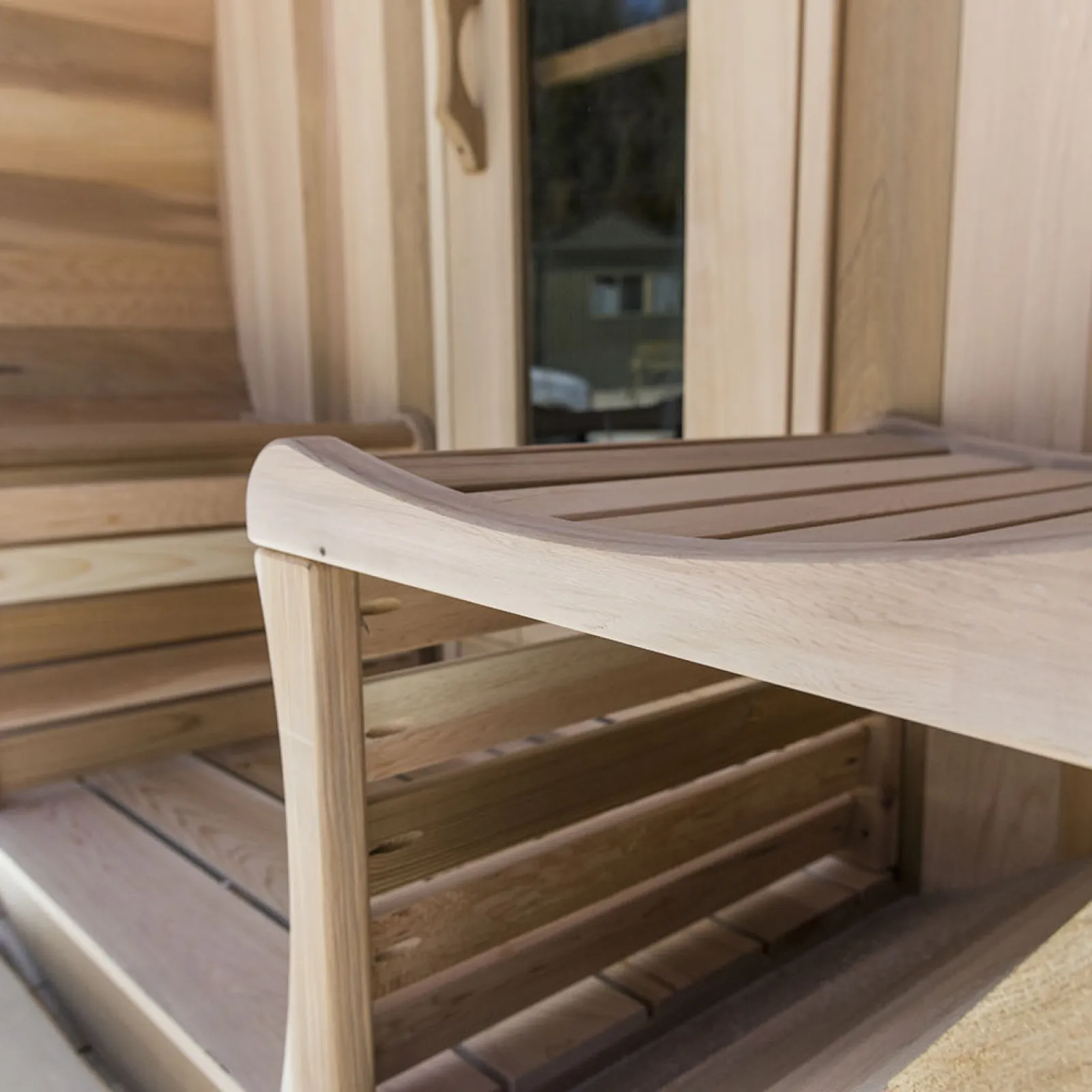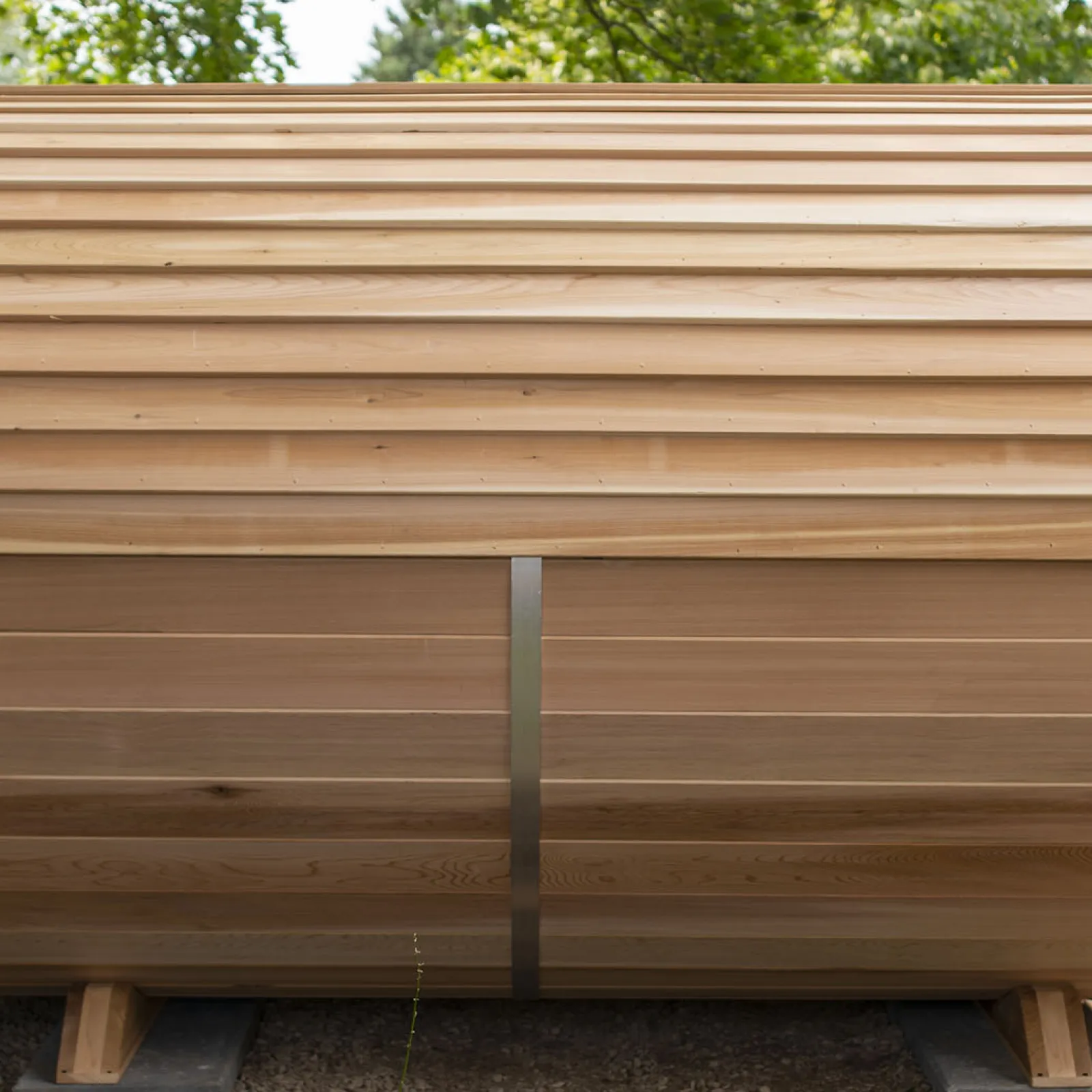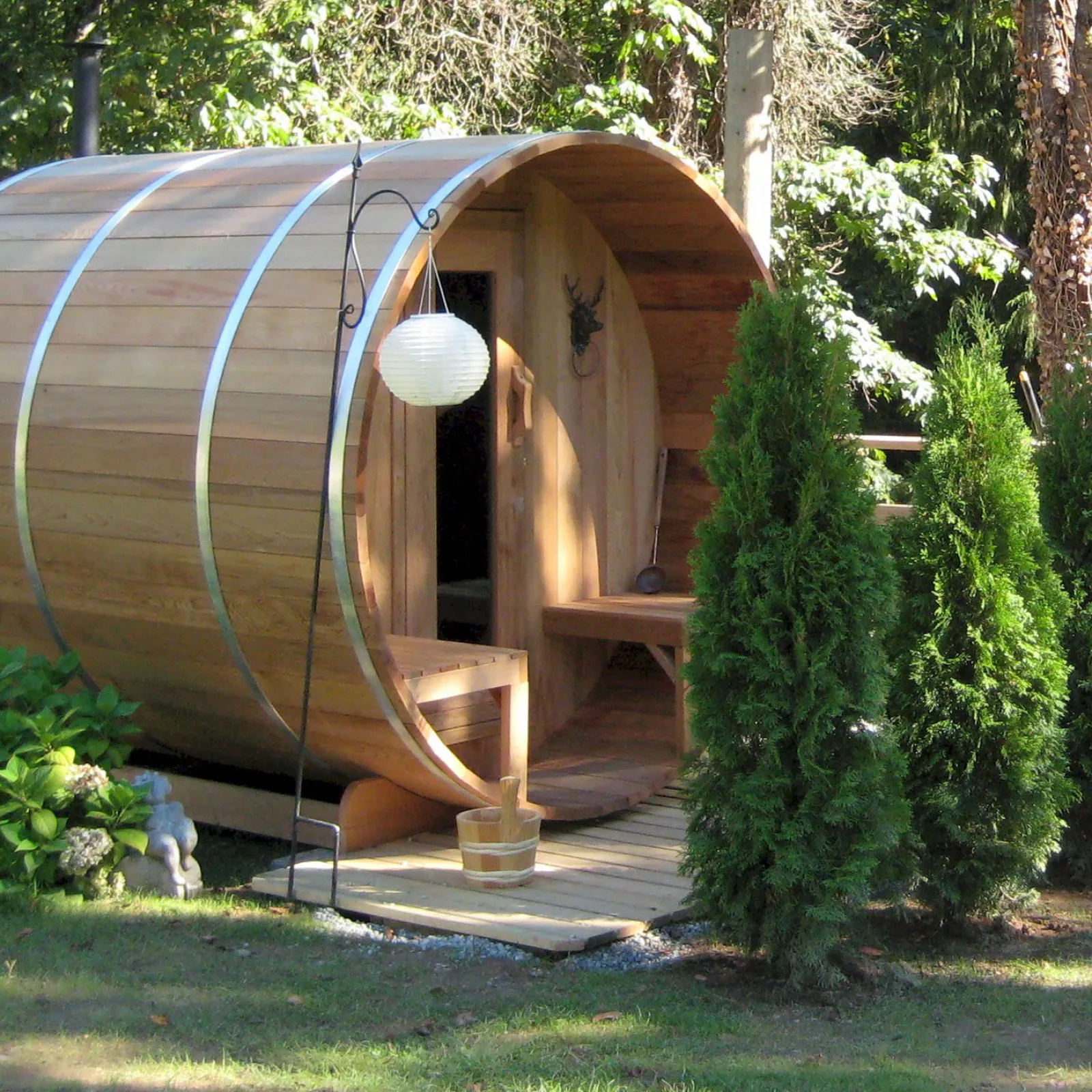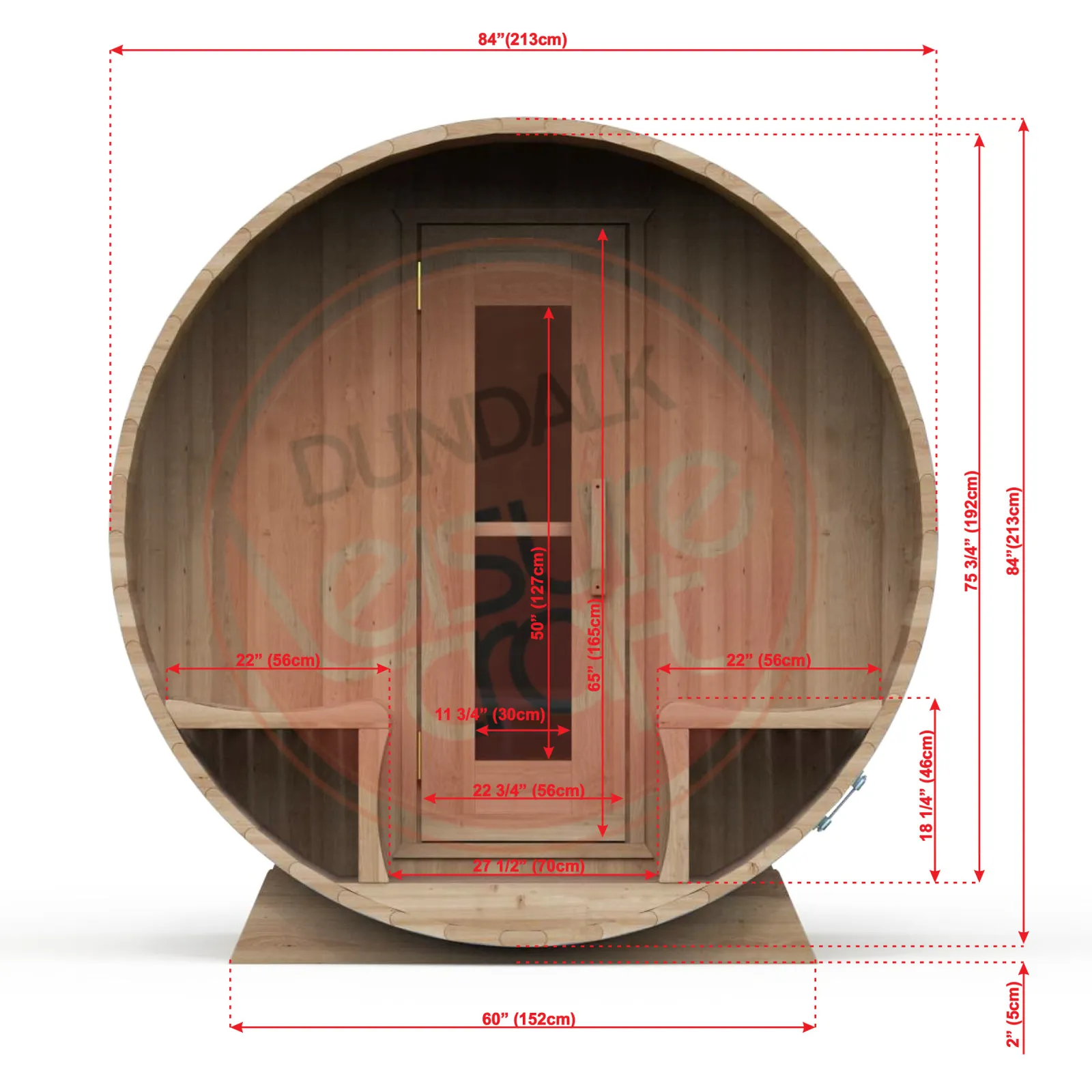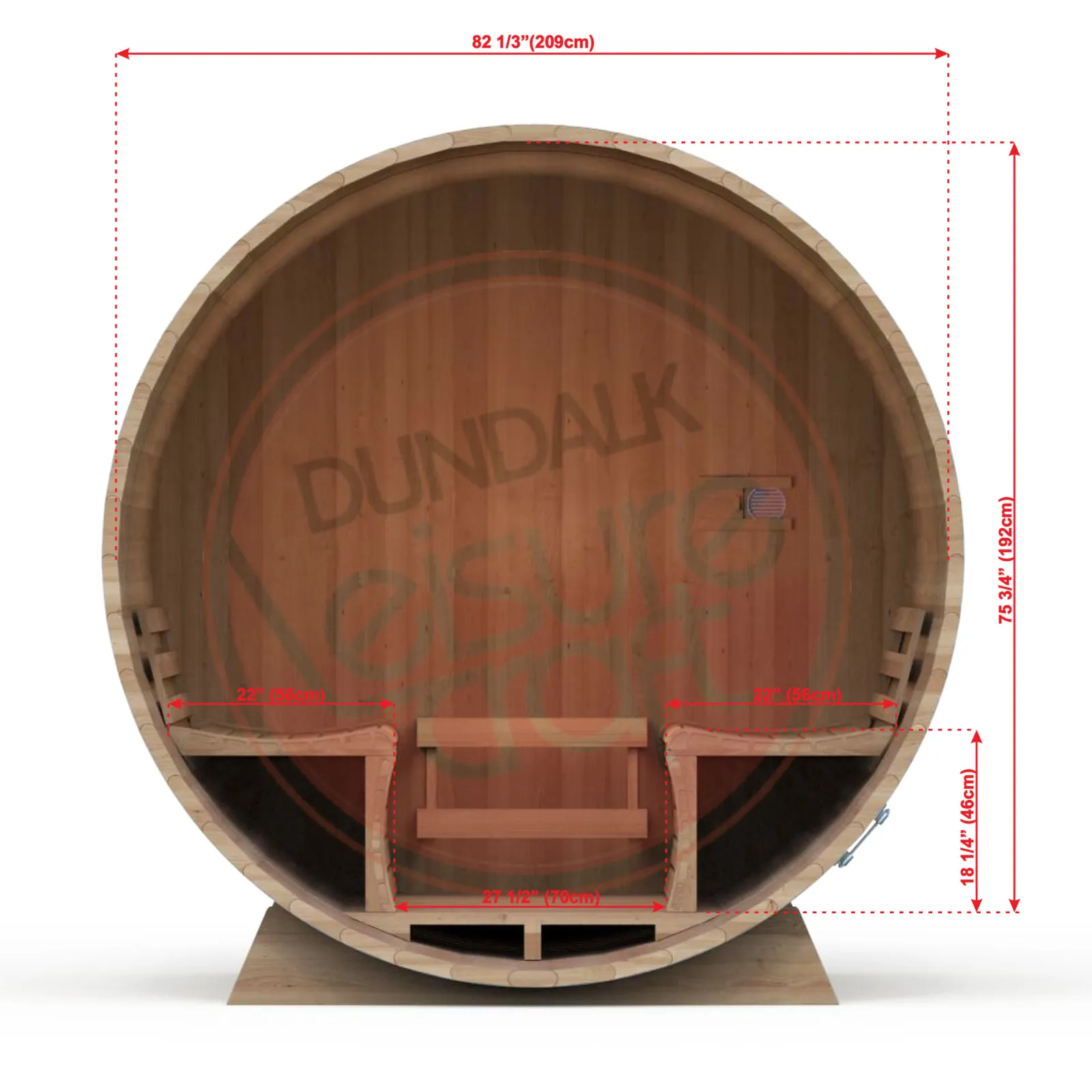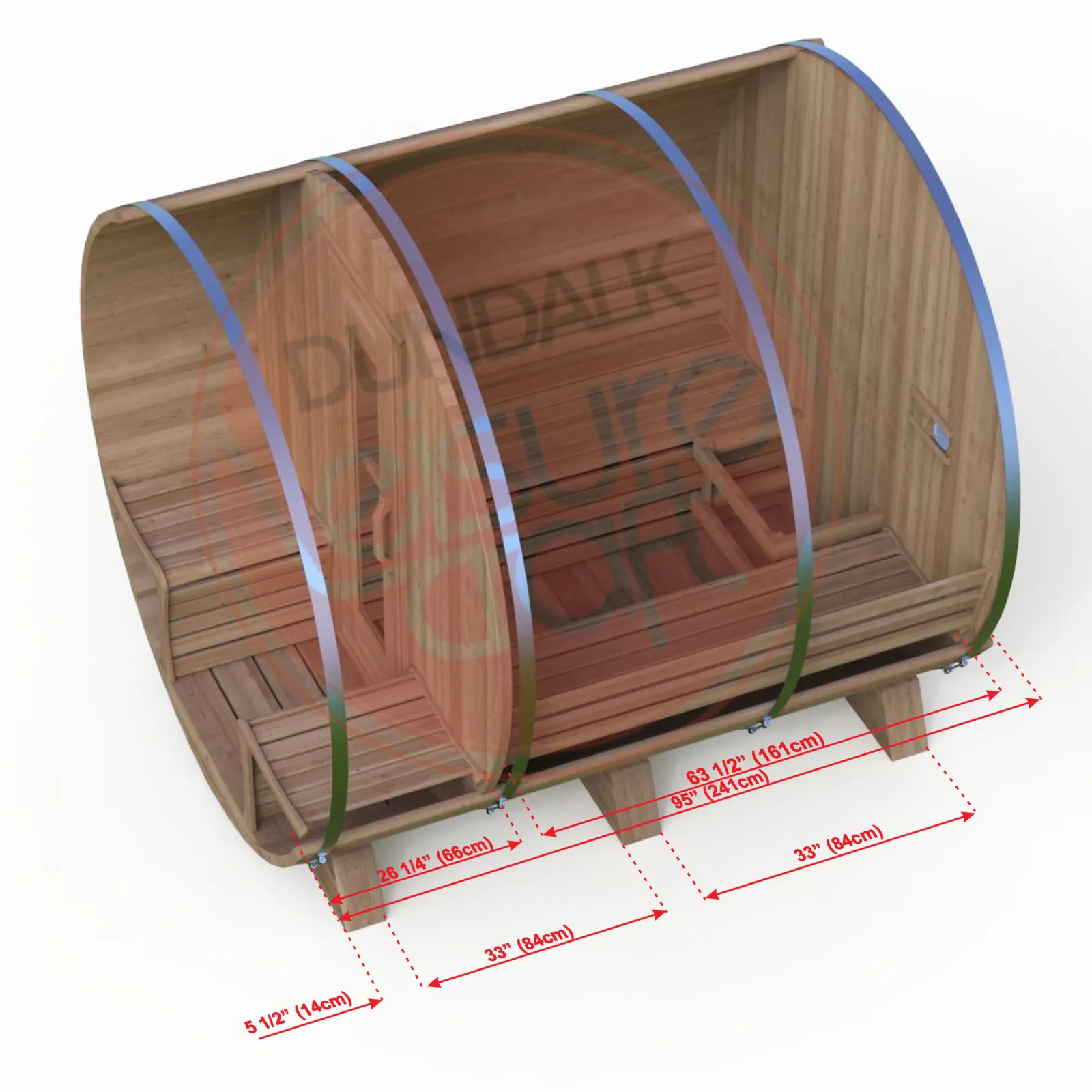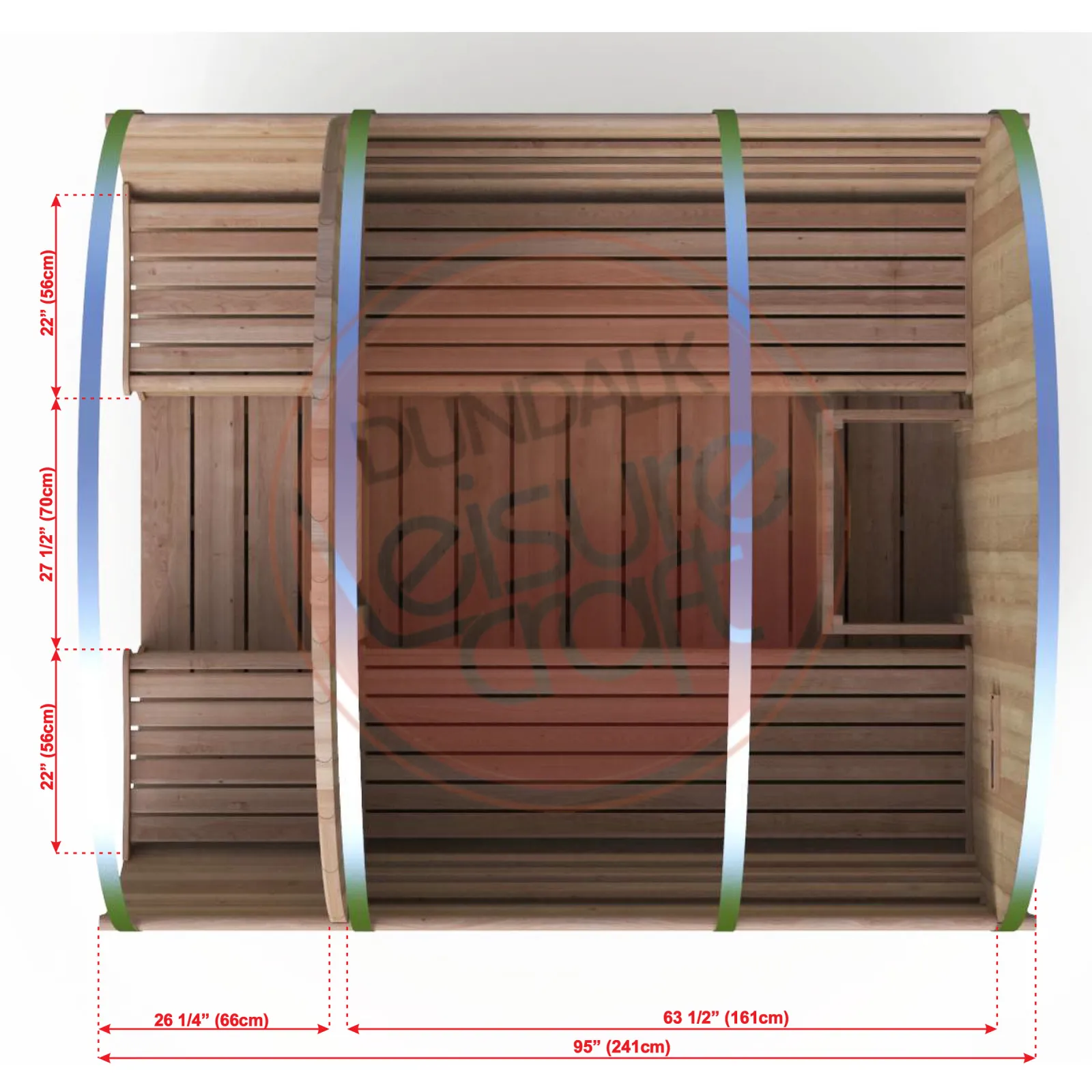 More About Dundalk Barrel Saunas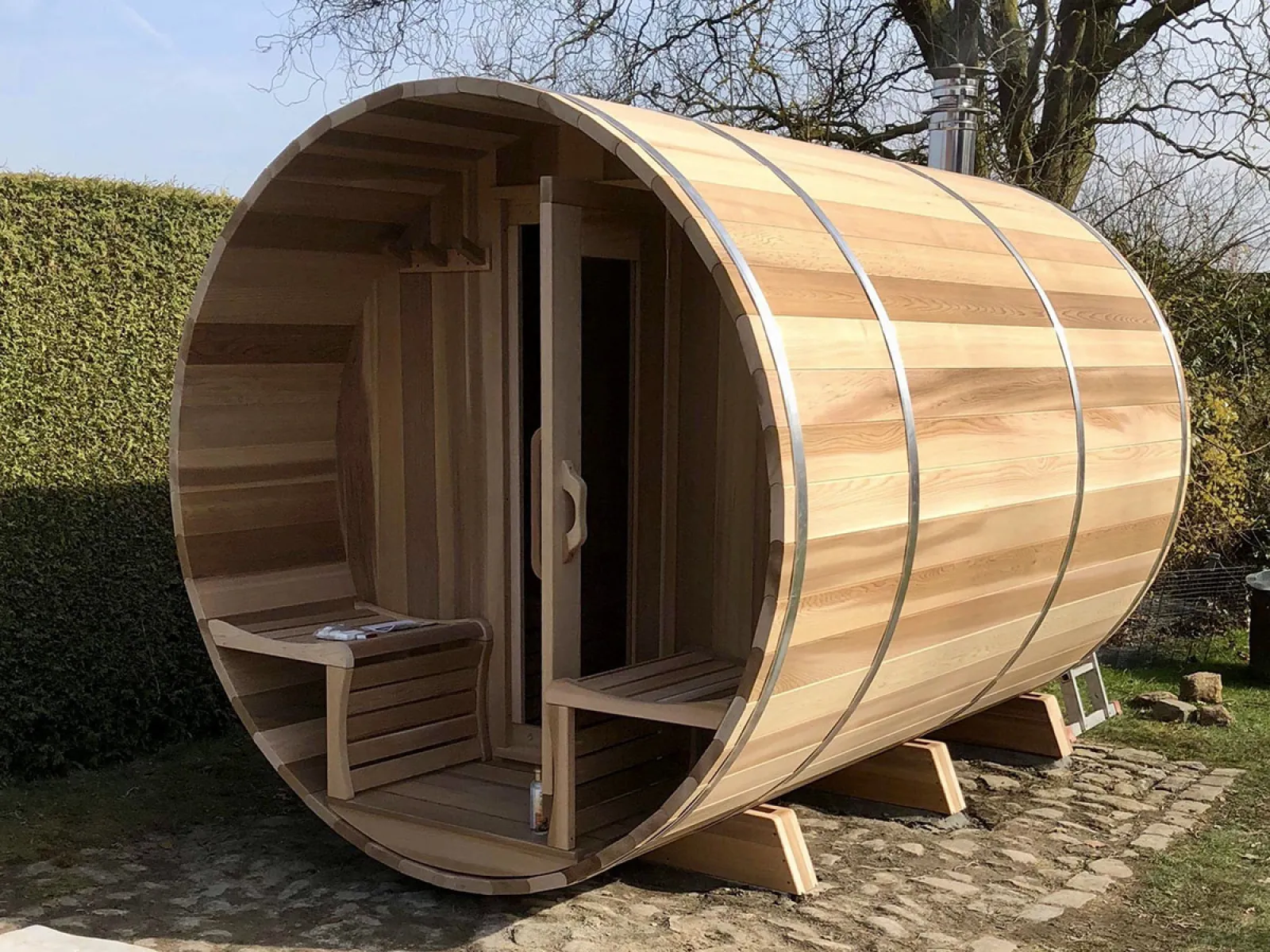 Knotty Cedar
This unique barrel sauna concept makes our outdoor knotty cedar barrel saunas an exciting investment that generations can enjoy. Western Red Cedar barrel saunas have 1 1/2″ thick walls for a long natural insulation and the barrel design give you a much smaller heating area than any rectangular sauna with plenty of room for bathers.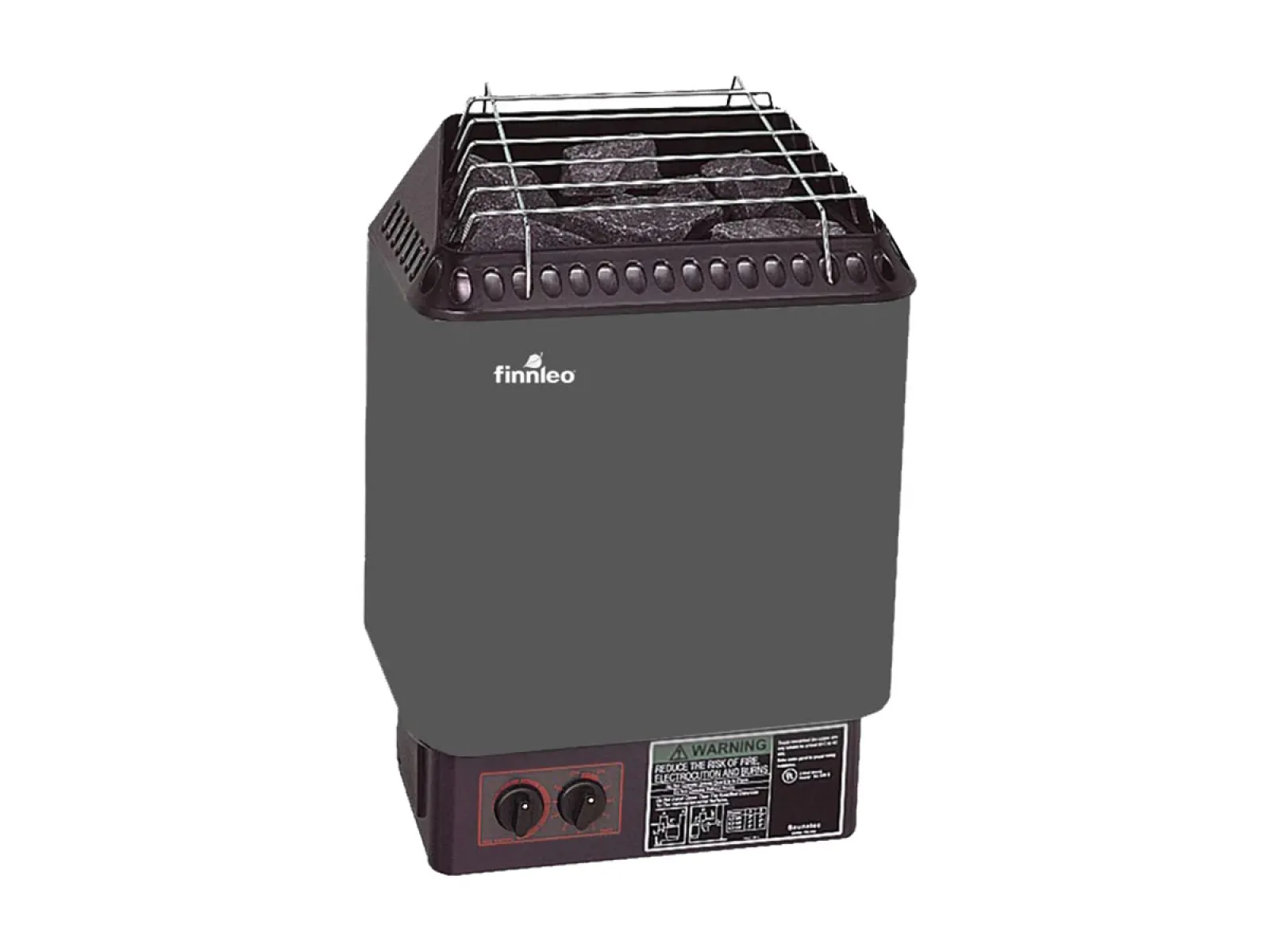 Designer-B Heater

Offers in-room control of your sauna or for installs where external controls are not an option. Controls feature "9+1" timer with 9-hour time delay feature. Controls bottom mount—front or side.
Designer-B Heater Specifications
For rooms from 100 to 425 cubic feet
16-1/2" W × 23" H × 11" D
Wall mounted heater
Available in 4.5 kW, 6.0 kW, and 8.0 kW
50 lb rock capacity
Built-in controls with "9+1" timer with 9-hour time delay feature
Controls bottom mount front (standard) or on left or right side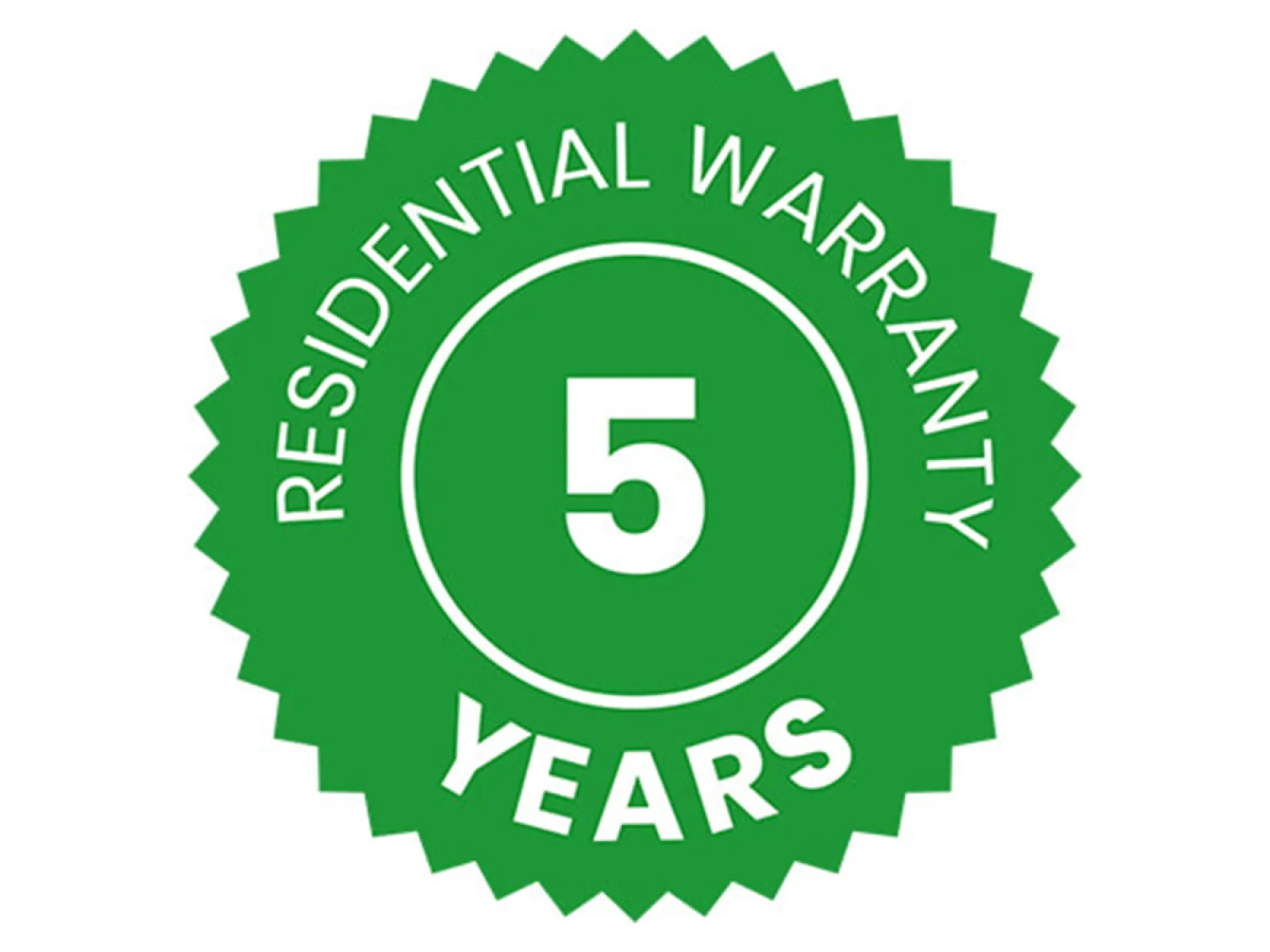 Warranty
Dundalk LeisureCraft Inc. warrants our saunas against defects in materials and workmanship under normal/residential use for a period of five (5) years, as applicable, from the date of receipt of the product by the original end-user consumer. This warranty does not apply to normal wear and tear and/or natural weather conditions. This warranty does not cover regular required maintenance of the sauna, (eg. Tightening bands on the barrels, cleaning or staining the sauna) refer to your sauna assembly manual for maintenance guidelines. This warranty does not cover misuse or negligence and the manufacturer and associated retailers are not liable for any injury or damage caused by the product. This warranty is a parts only warranty and any service or labor costs would not be considered as part of the 5 year warranty.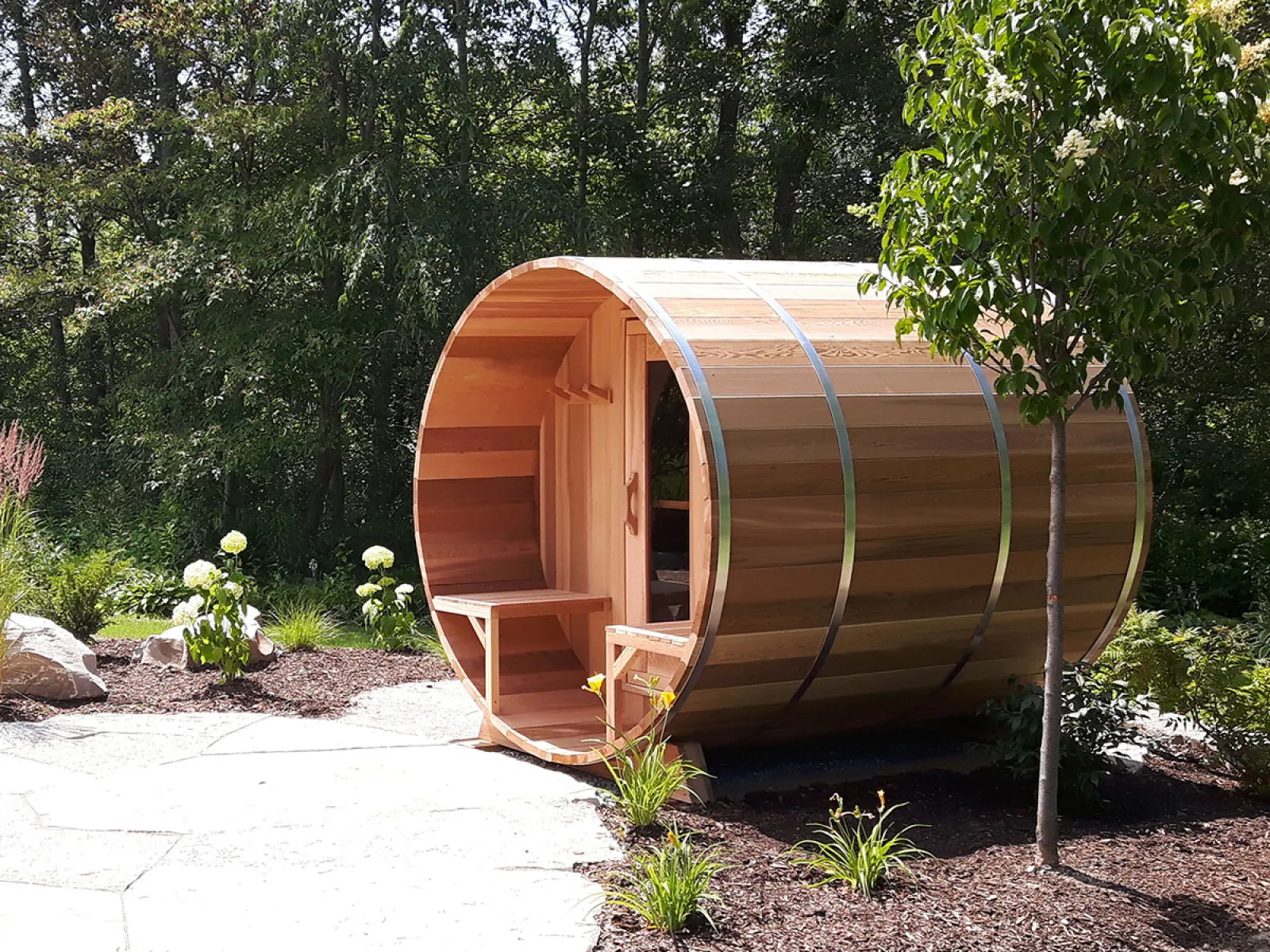 FAQ
Can I stain or paint my Sauna?
You can stain or paint the outside of you sauna, do not put anything on the inside. Any semi-tranparent outdoor stain will work.
What type of base does my sauna require?
Any solid level area is okay to install your sauna, a wooden deck, concrete pad, crushed gravel or patio stones are ideal. As long as it is solid and level and the water can drain away.
Get the latest
Dundalk Sauna pricing!
Your privacy is important to us. We will not share your information with anyone.
We will periodically contact you with exclusive promotional offers and product news.
You may unsubscribe at any time.