Roomy Lounger
The roomy Envoy offers five full-body massage options with two Moto-Massage® DX jets, a lounge and captain's chair with wrist jets, and foot or ankle massage in every seat.

People: 5 Seats
Seating: Lounger
Size: 8'4" x 7'7" x 38"

Voltage: 230 V

Water Care: FreshWater® Salt System Ready
Explore Highlife®
Legendary Massage

Comfortable seats with purposefully arranged jet systems work together to target specific muscle groups. The result is distinctive massage from your neck to your shoulders, back, wrists, calves and feet.
Personalized Control
The Comfort Control system lets you dial in your ideal experience - from a soft touch to a powerful massage. Use the SmartJet system to customize water flow to different jet groups and seats throughout the spa.
Moto-Massage DX Jets
The patented Moto-Massage DX moving jet delivers two streams of water that sweep up and down your back while four Precision Jets massage your neck and shoulders, creating an unparalleled hydrotherapy experience.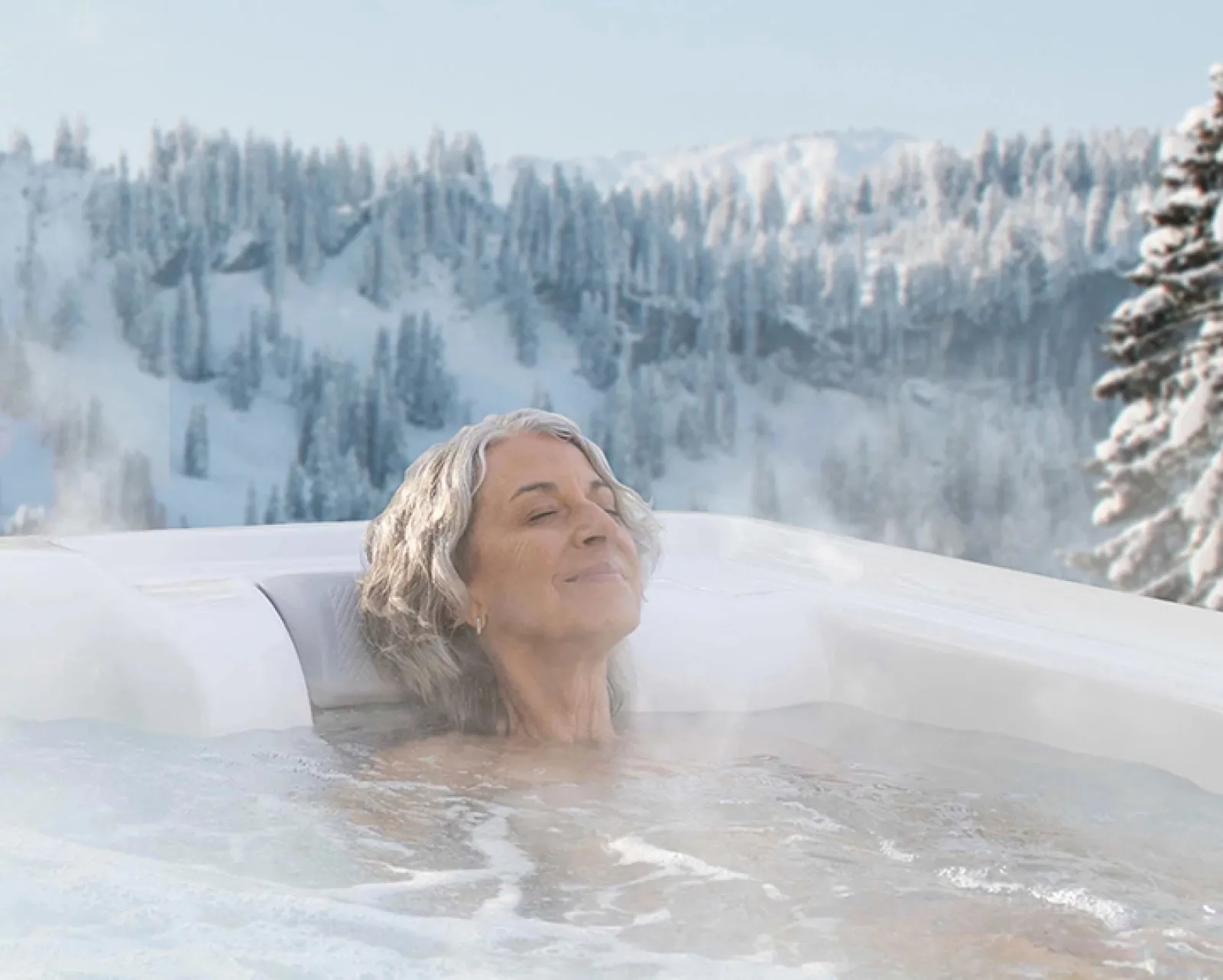 Super Energy Efficient

Highlife® Collection spas offer the very best in energy saving design with a comprehensive Energy Smart system. Your spa will be hot and ready when you are, while keeping energy costs low.
Energy Smart System Features - Saving You Money:
Layers of high-density polyurethane foam insulate the spa shell.
An insulated base pan creates insulating air space against cold ground.
Proprietary spa covers ensure a tight fit to keep heat from escaping.
A low-energy pump circulates water using less energy than a 40-watt light bulb.
The titanium heater maximizes heat transfer.
A pump shroud captures heat from the equipment compartment to minimize water cooling.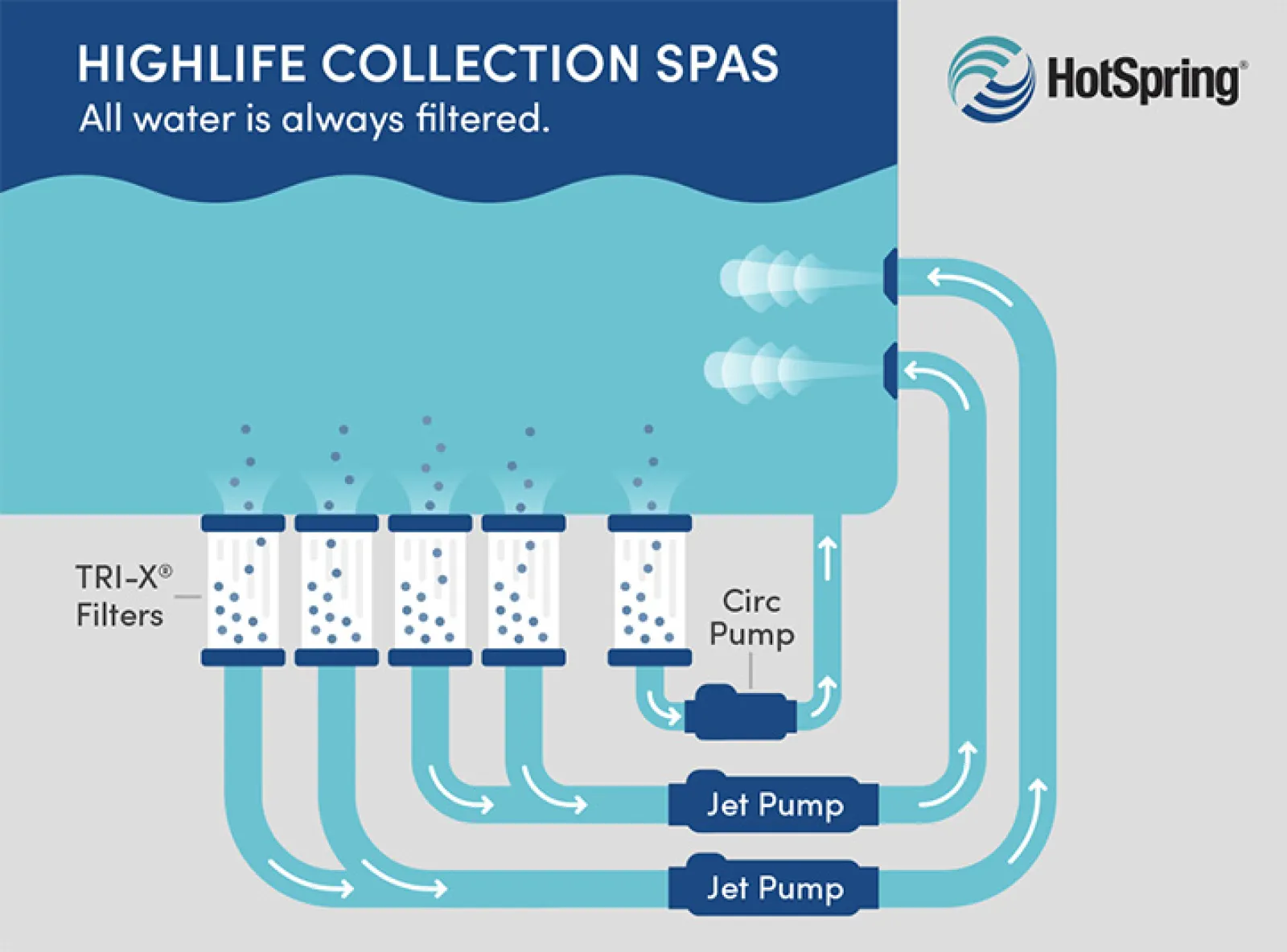 Easy Water Care

Crystal clear spa water is essential to your soaking experience. Highlife Collection spas offer exclusive innovations that keep your water clean with less effort.
100% No-Bypass Filtration
All the water is filtered all the time. In other spas, water bypasses the filters while the jets are on, when you need it most. Tri-X filters provide more effective filtration area to filter significantly more water.

FreshWater Salt System
This system automatically generates chlorine from salt for soft, natural-feeling water without harsh odors, itchy skin or irritated eyes. Keep your hot tub water clean and feeling great for up to a full year.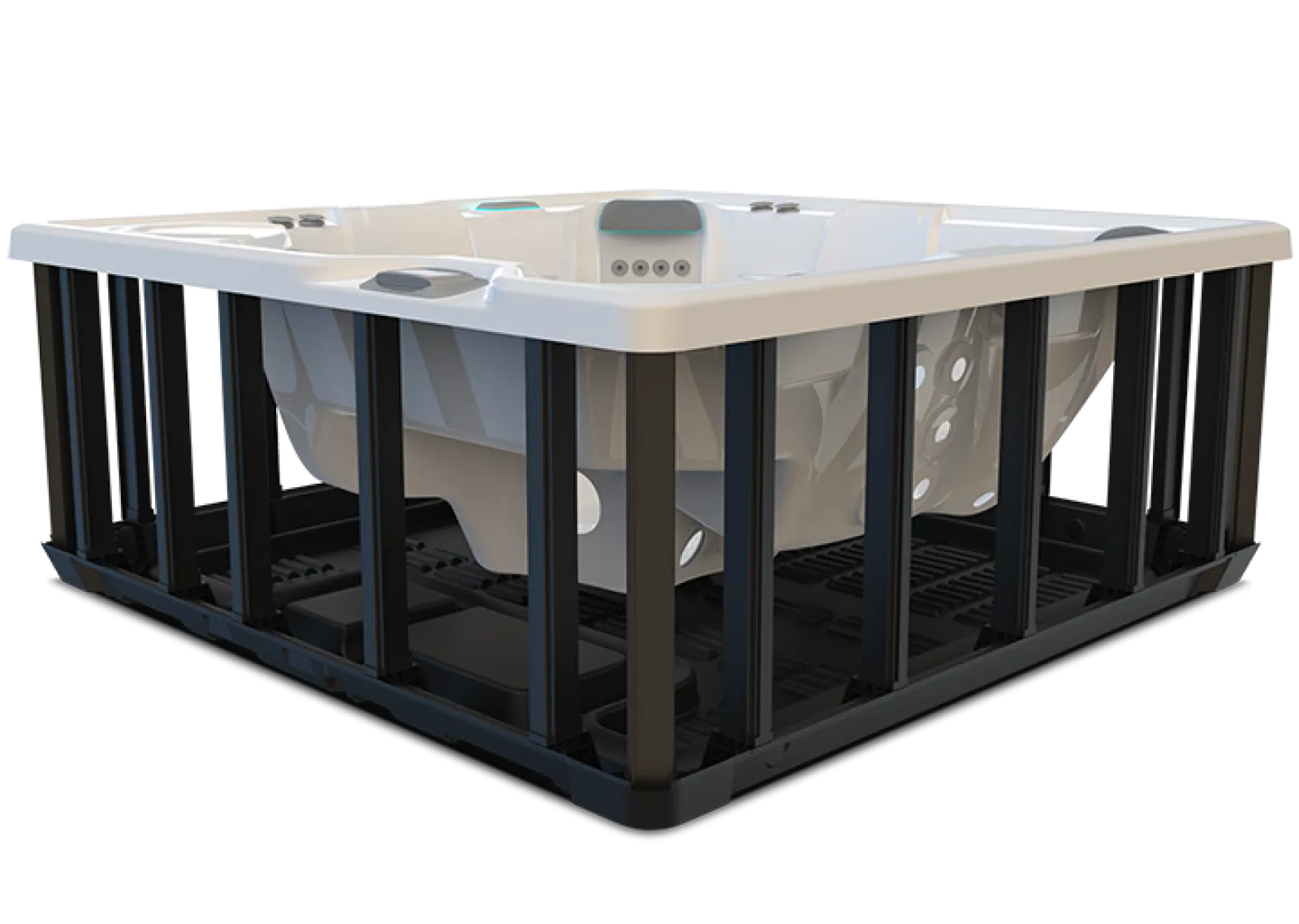 The Absolute Best
Hot Tub Ownership Experience®
No matter which model you select, you can count on superior quality, comprehensive warranties and outstanding customer care from our experienced dealers.
Polymer Structure and Base Pan
The lightweight, polymeric substructure provides an outstanding support structure, integrated with the sealed base pan, that will never rust or rot.

Committed to Our Customers
Hot Spring's dedication to high-quality construction and unparalleled customer care means you can enjoy your spa for years to come. You can count on support from both Georgia Spa Company and Hot Springs Spas to ensure your spa is always running at its best.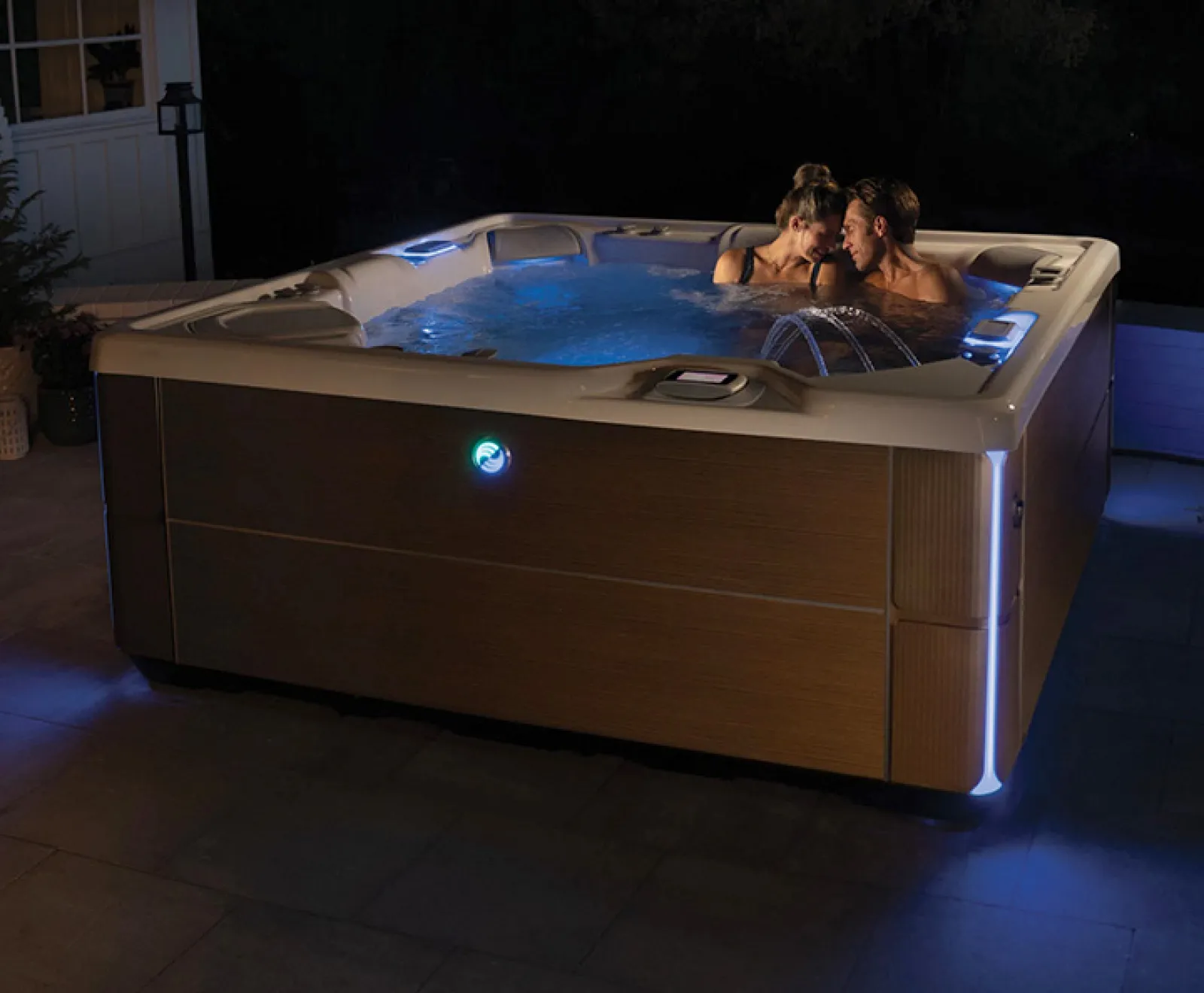 Visually Stunning

The Highlife Collection redefines how a hot tub can look. Comfortable, sculpted seating and stylish design details work together to create a design that's more like furniture than a hot tub.
Distinctive Color Palette
Choose from six cabinet finishes and a variety of shell colors to create a look that's just right for you.

Customizable Zone Lighting
Create the perfect ambiance inside and outside the spa from subtle to spectacular with the multi-zone LED lighting system.
Ready to Begin Creating Your Personal Oasis?
Hot Tub
Health Benefits
Our attraction to water continues to help us think and feel our best. Whether it's to soothe aches and pains, or to calm a restless mind, the transformative effect of water is quite powerful. While it is so simple to experience, the benefits of water immersion are often discounted or simply just unknown, and when they are discovered, the surprise is huge!
Envoy
Specifications
Key Specifications

| | |
| --- | --- |
| Total Seats | 5 |
| Lounge Seat | Yes |
| Dimensions | 8'4" x 7'7" x 38" |
| Water Care System | FreshWater Salt System Ready |
| Voltage | 230 V |
| Water Capacity | 455 gallons / 1,725 L |
| Dry Weight | 785 lb. / 355 kg dry |
| Filled Weight* | 5,455 lb. / 2,480 kg |

*Includes water and an adult weighting 175 lb. for every seat
Massage

Jet Count
55
Jet Types
2 - Moto-Massage® DX
2 - SoothingStream®
5 - JetStream®
2 - Rotary Hydromassage
2 - Directional Hydromassage
6 - HydroStream®
4 - Rotary Precision®
30 - Directional Precision®

Comfort Control
Yes
SmartJet System
Yes
Jet Pump 1
Wavemaster® 9000
One-Speed
2.5 HP Continuous Duty
5.2 HP Breakdown Torque
Jet Pump 2

Wavemaster® 9200
Two-Speed
2.5 HP Continuous Duty
5.2 HP Breakdown Torque
Clean Water

| | |
| --- | --- |
| 100% No-Bypass Filtration | Yes |
| High-Flow Tri-X Filters | Yes |
| Effective Filtration Area | 325 sq. ft. |
| Water Care System | FreshWater Salt System Ready |
| Circulation Pump | SilentFlo 5000® |
| Floor Drain | Yes |
Energy Efficiency

| | |
| --- | --- |
| Insulation | Multiple Layers of Urethane Foam |
| Proprietary Heater | Titanium No-Fault® 4,000 W / 230 V |
| Patented Pump Shroud | Yes |
| Custom-Fit Insulated Cover | 3.5" to 2.5" Tapered, 2-Pound Density Foam Core with Hinge Seal |
| Bottom Seal | Insulated Polymeric Base Pan |
| Energy Standards | Meets California Energy Commission (CEC) and APSP 14 Energy Efficiency Standards for Portable Spas |
Intuitive Control

Control System
IQ 2020® with Wireless Remote Touchscreen
230 V / 50 amp, 60 Hz
Includes G.F.C.I. Protected Subpanel
Diagnostic/Ready Light
Yes
Design

Cabinet Colors
Java
Charcoal
Blackwood
Linen
Brushed Nickel
Shell Colors
Alpine White
Ice Gray
Ivory
Platinum
Pebble
Tuscan Sun

Cover Colors
Vinyl: Nutmeg or Graphite
Polyester: Black or Gray

Water Feature

BellaFontana® with Three Illuminated Arcs of Water

Lighting System - Interior

Customizable LED Zone Lighting

Lighting System - Exterior

Multi-Color LED Lighting with Timer

Polymeric Substructure
Yes
Optional Accessories

Covers

Smartop Upright 3.0 or Vanish XL
Covana Evolution 9'

Cover Lifters
CoverCradle®
CoverCradle II
UpRite®
Lift 'n Glide®

Steps

ModStep 2XL with Safe-T-Rail

Bluetooth Music System with Subwoofer

Available

Additional Options

Safe-T-Rail
SmartRail
Spa Umbrella
8'x8' SmartDeck
Towel Tree
FreshWater Ozone System
CoolZone

Warranty

| | |
| --- | --- |
| No-Leak Shell | 7 Years |
| Shell Surface | 7 Years |
| Cabinet | 5 Years |
| No-Leak Plumbing | 5 Years |
| No-Fault Heater | 5 Years |
| Component Warranty | 5 Years |
| Interior Light Assembly | 2 Years |
| Wireless Remove Control Battery | 1 Year |
Envoy Hot Tub Accessories
Get Pricing
Your privacy is important to us. We will not share your information with anyone.
We will periodically contact you with exclusive promotional offers and product news.
You may unsubscribe at any time