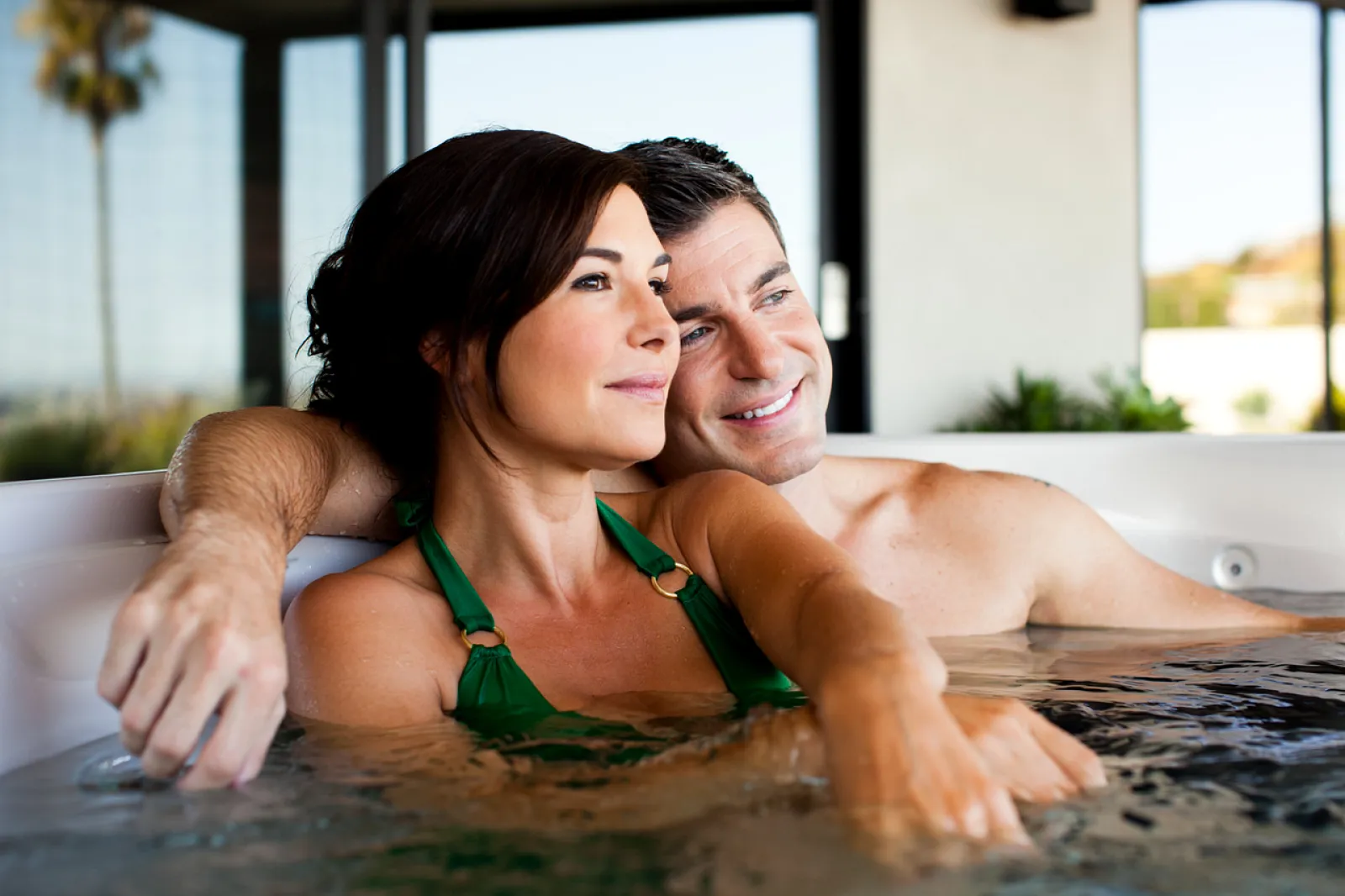 About the
Vacanza® Series
All the wellness benefits of a Caldera® spa, available at an exceptional value. Step into your hot tub to refresh, renew, and emerge ready for what life has to offer.

Ready to Begin Creating Your Personal Oasis?
Designed to
Delight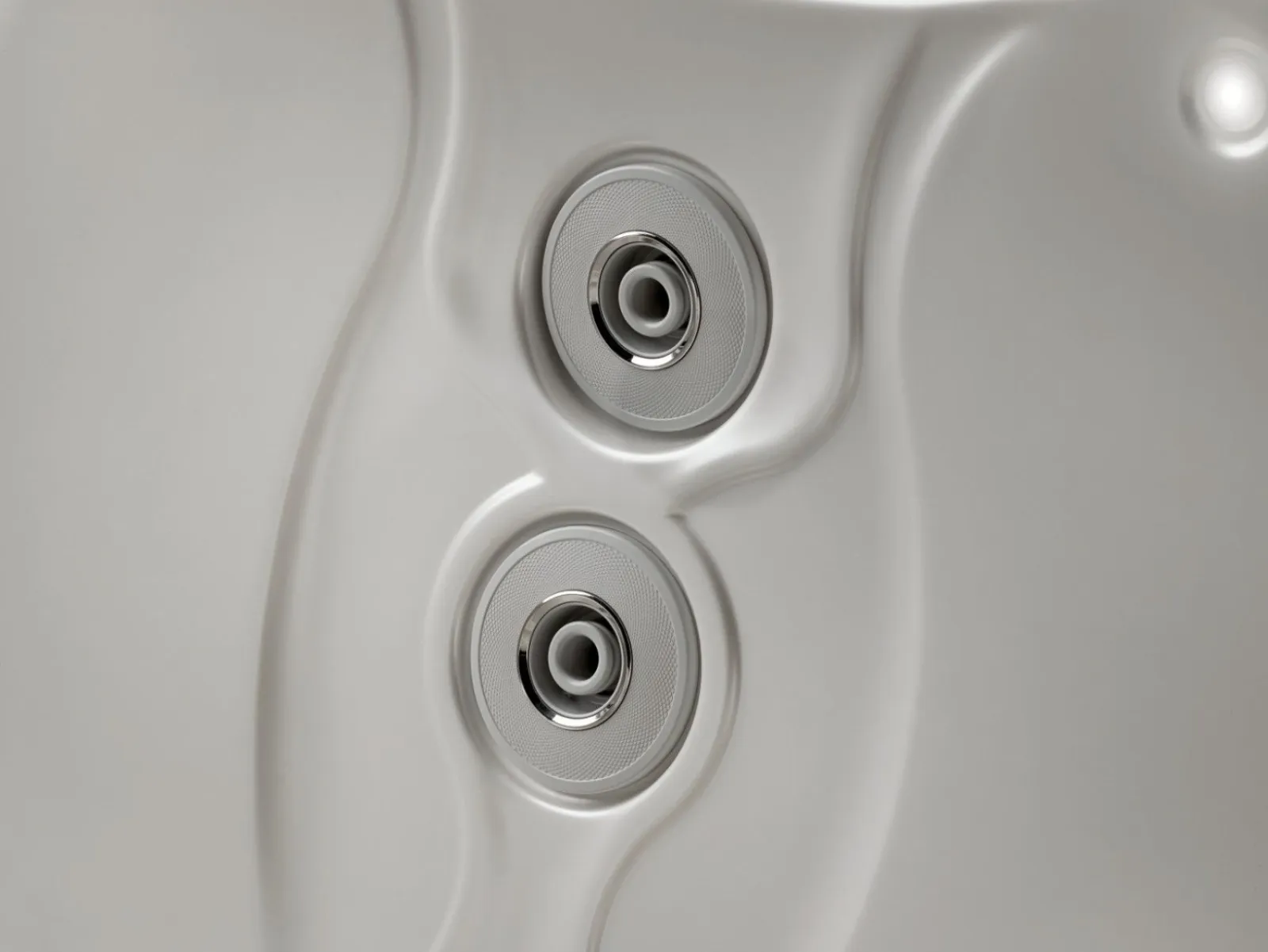 Seats & Jets
These streamlined spas are ergonomically designed to cradle your body and feature a uniquely textured Foot Ridge® that lets you stay securely in your seat, helping you relax, especially when enjoying powerful jets.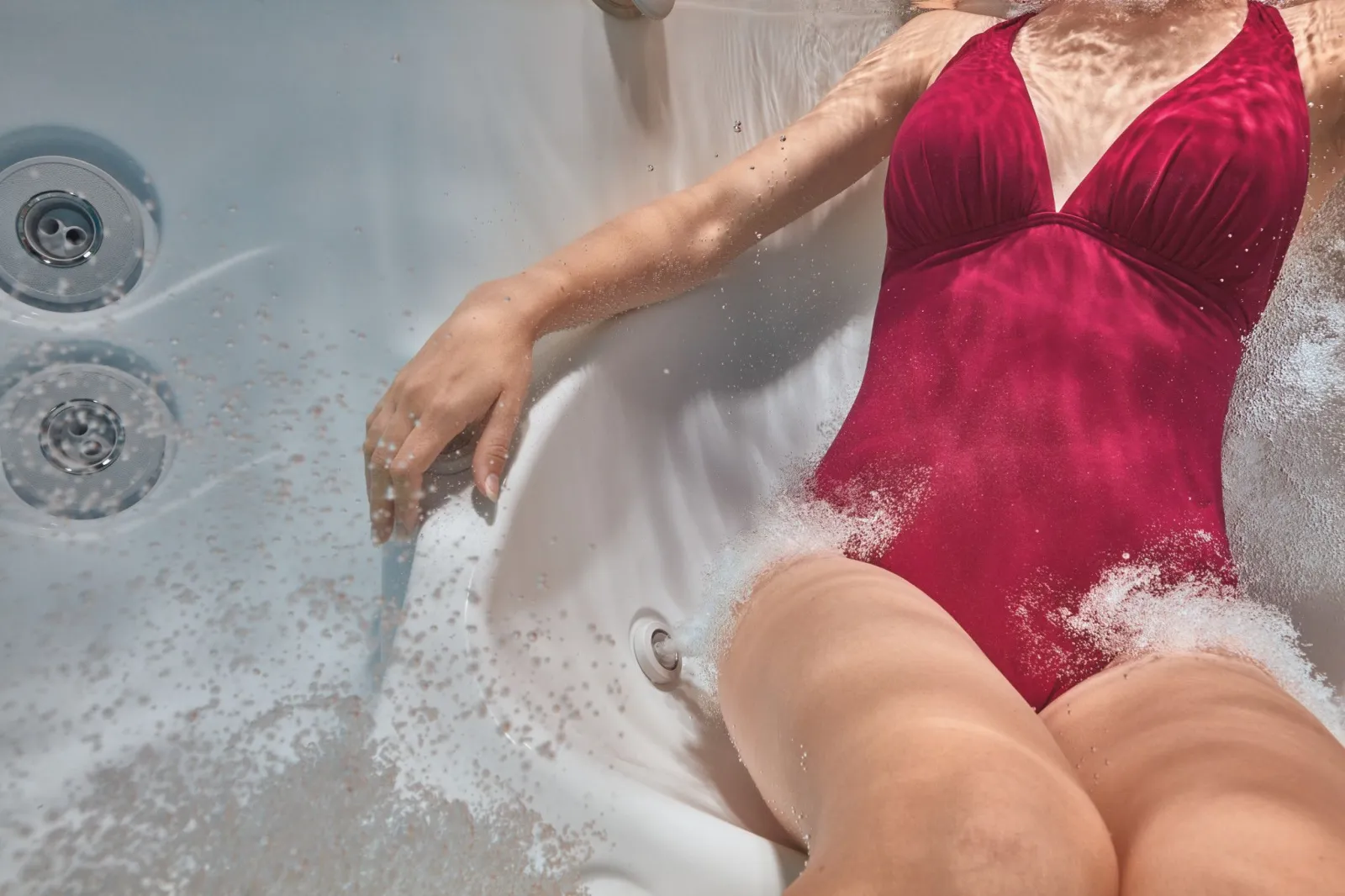 Hot Tub Circuit Therapy®
Each Vacanza Series spa has between two and five Hot Tub Circuit Therapy® stations. Rotate through the circuit or just concentrate on the areas that need the most attention. In just 20 minutes, you'll emerge transformed.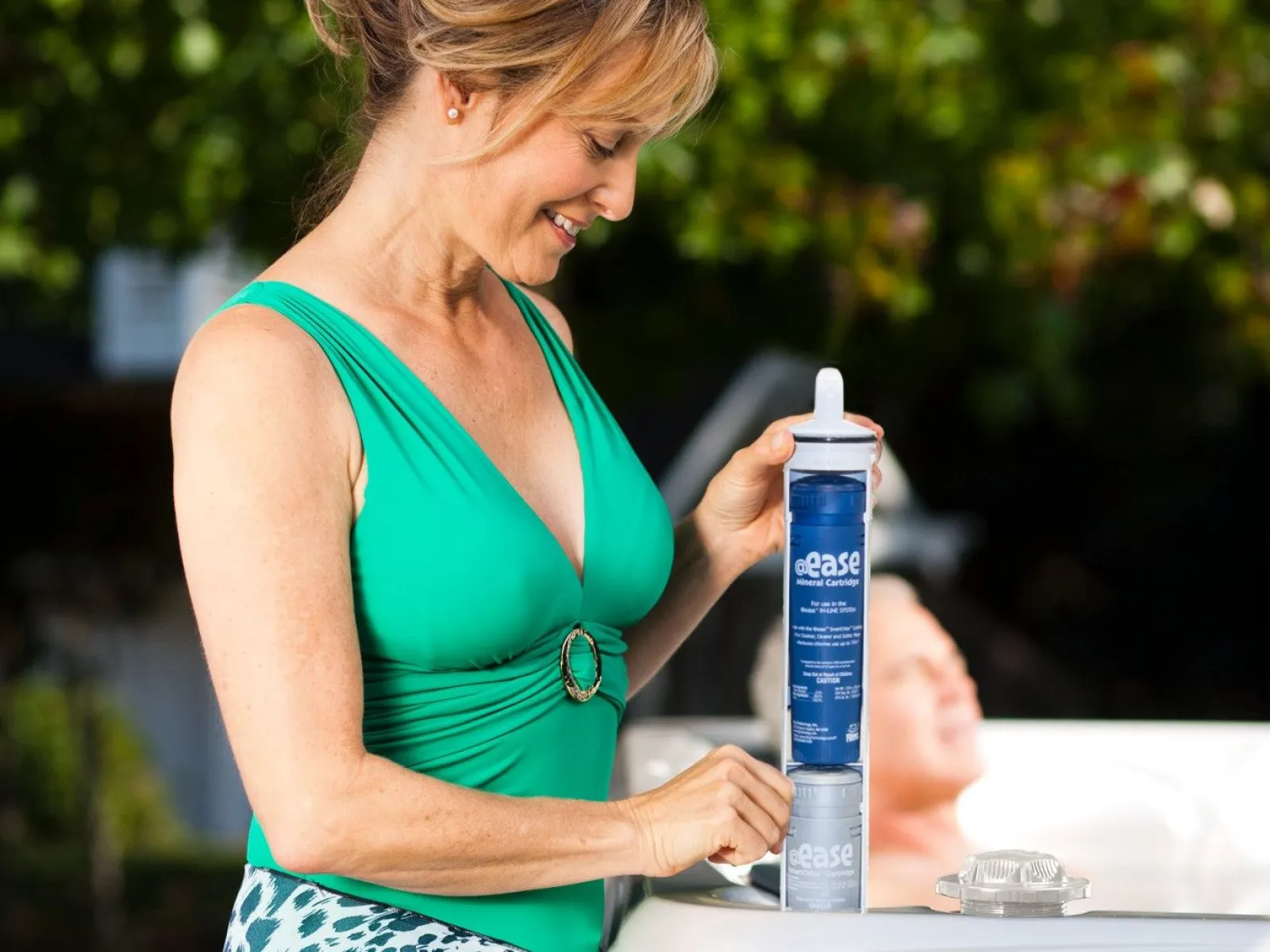 FreshWater® Salt System
The FROG @ease In-Line System with SmartChlor® Technology automatically maintains clean water with pre-filled cartridges to eliminate the guesswork and combine chlorine and minerals for self-regulating sanitization. Chemical odors are minimized, while minerals condition the water for a softer feel.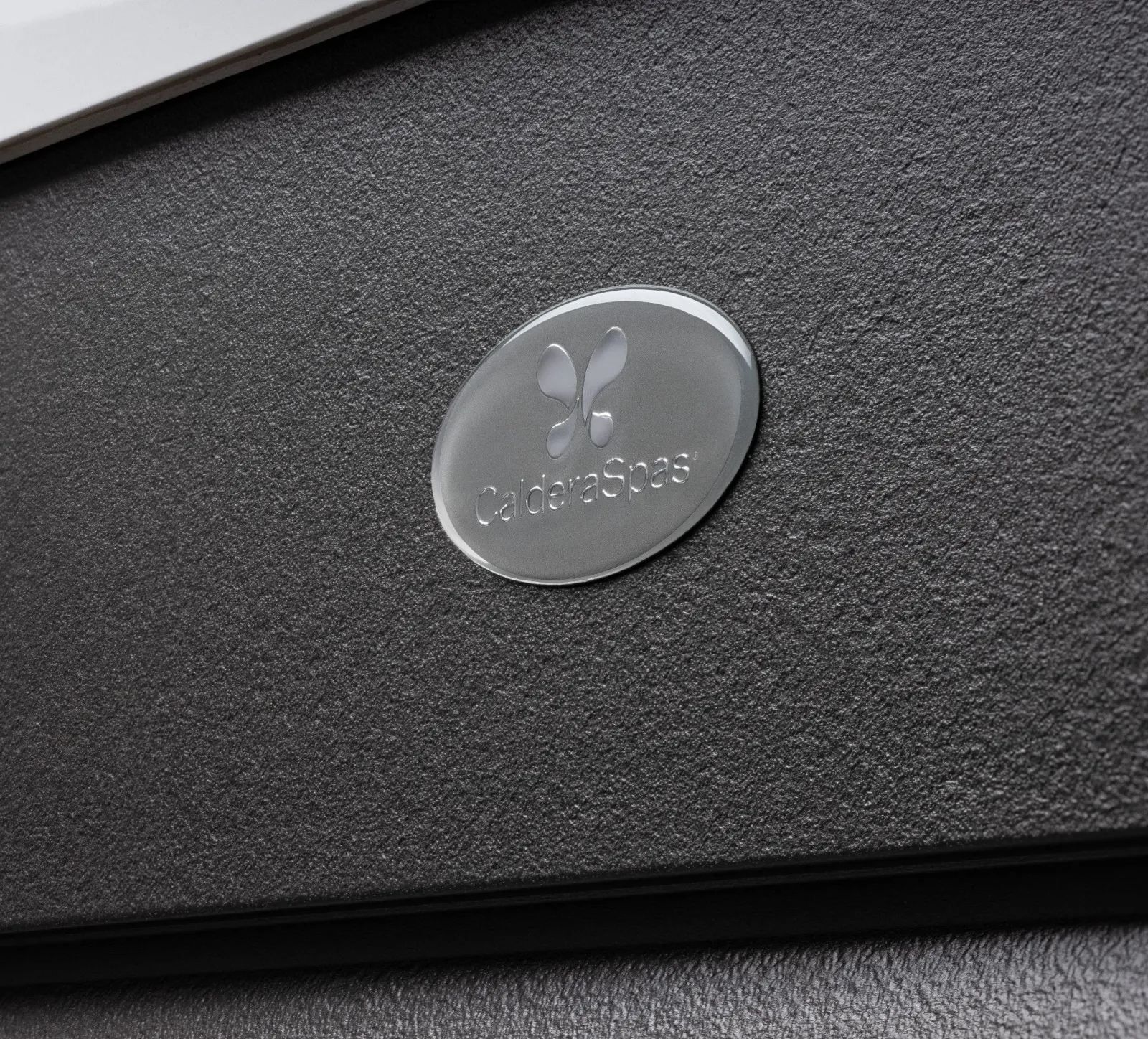 EcoTech® Cabinet
Form meets function in the durable yet stylish EcoTech cabinet available in three contemporary colors.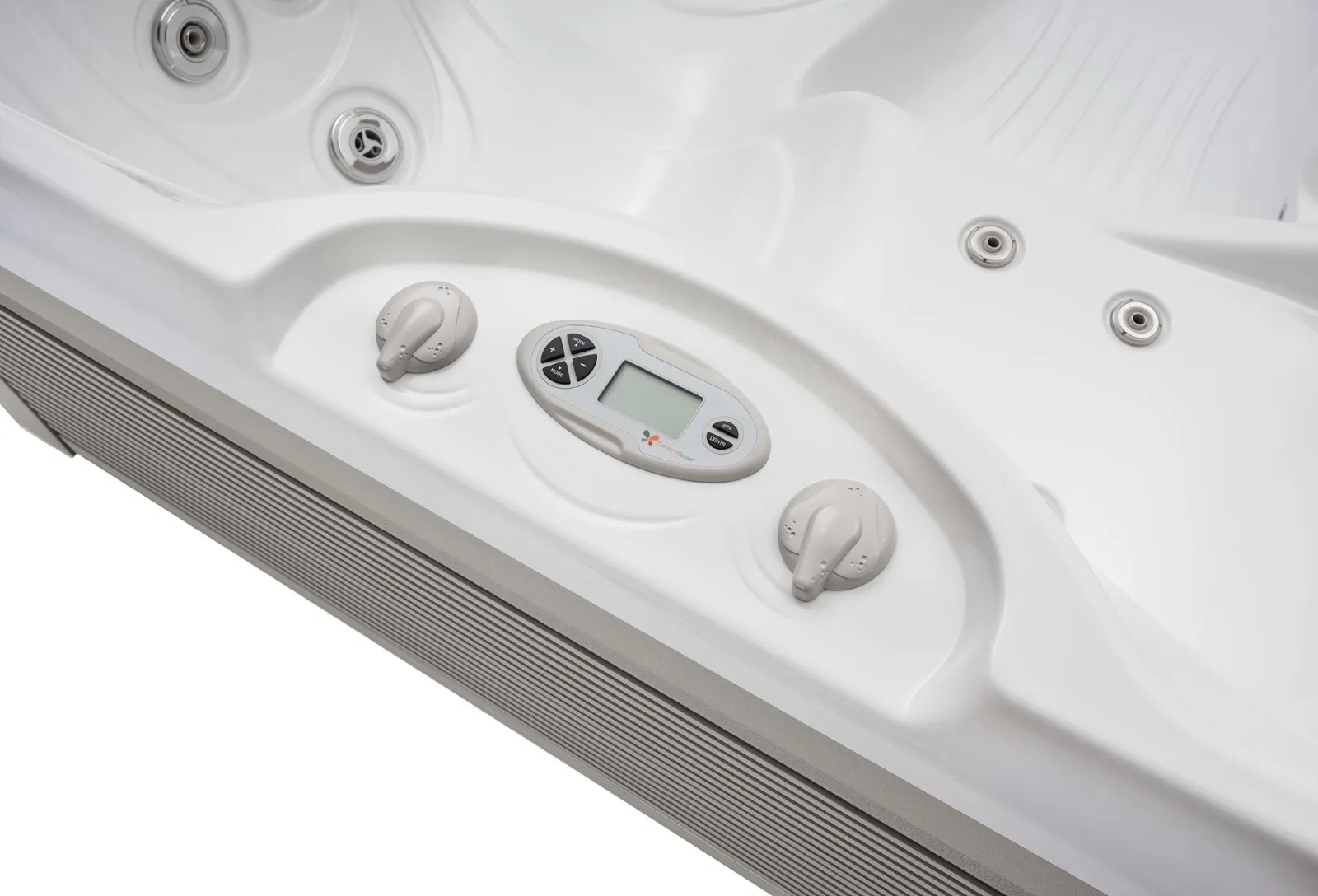 Lighting
Points of light cast a reflective glow throughout the footwell, interior and water edge of your spa. Set it to reveal the color of your choice or to reveal a slowly rotating display of all six colors.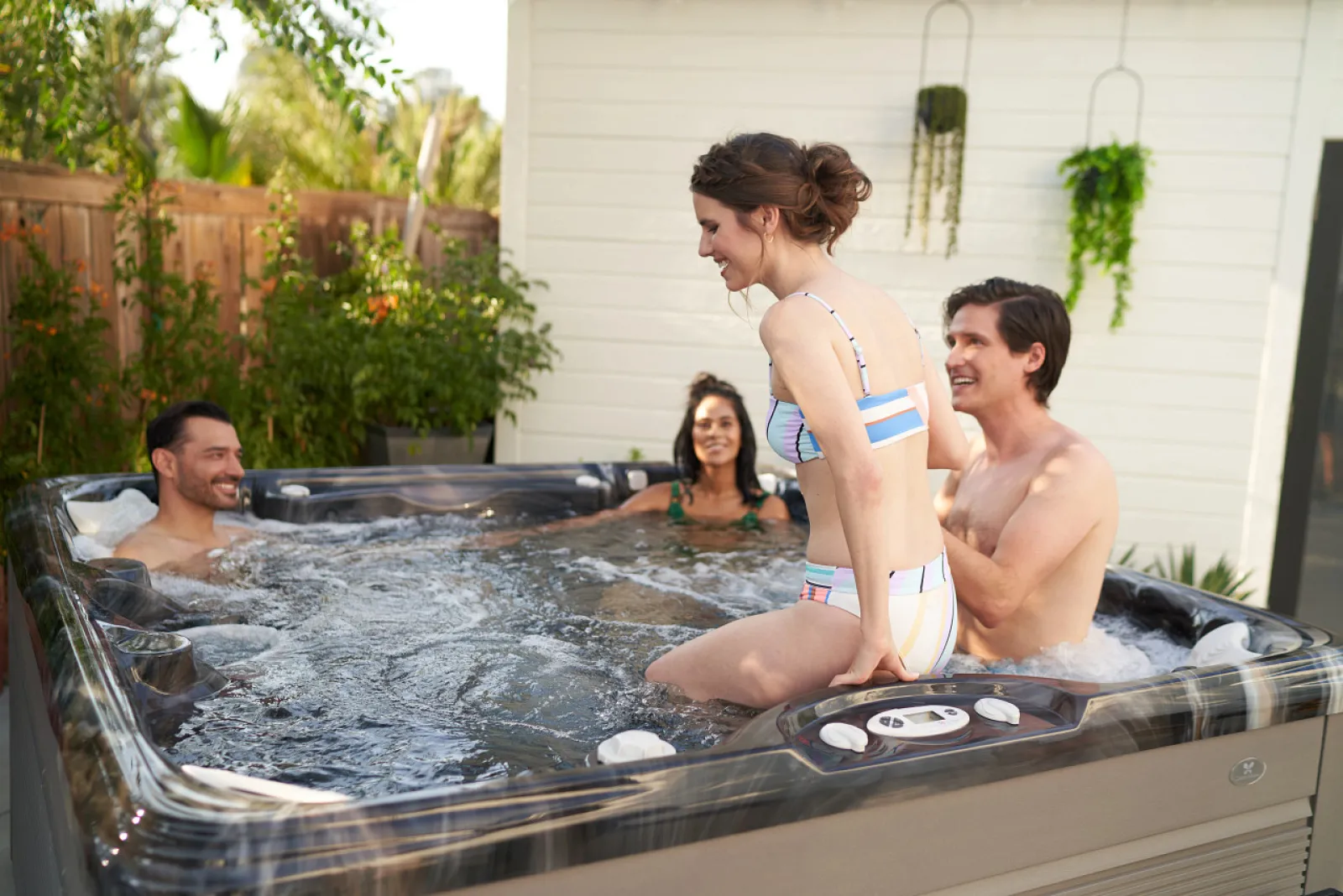 Entertainment
Most Vacanza models can be ordered music-ready to include integrated speakers that can be paired with our Bluetooth® wireless sound system.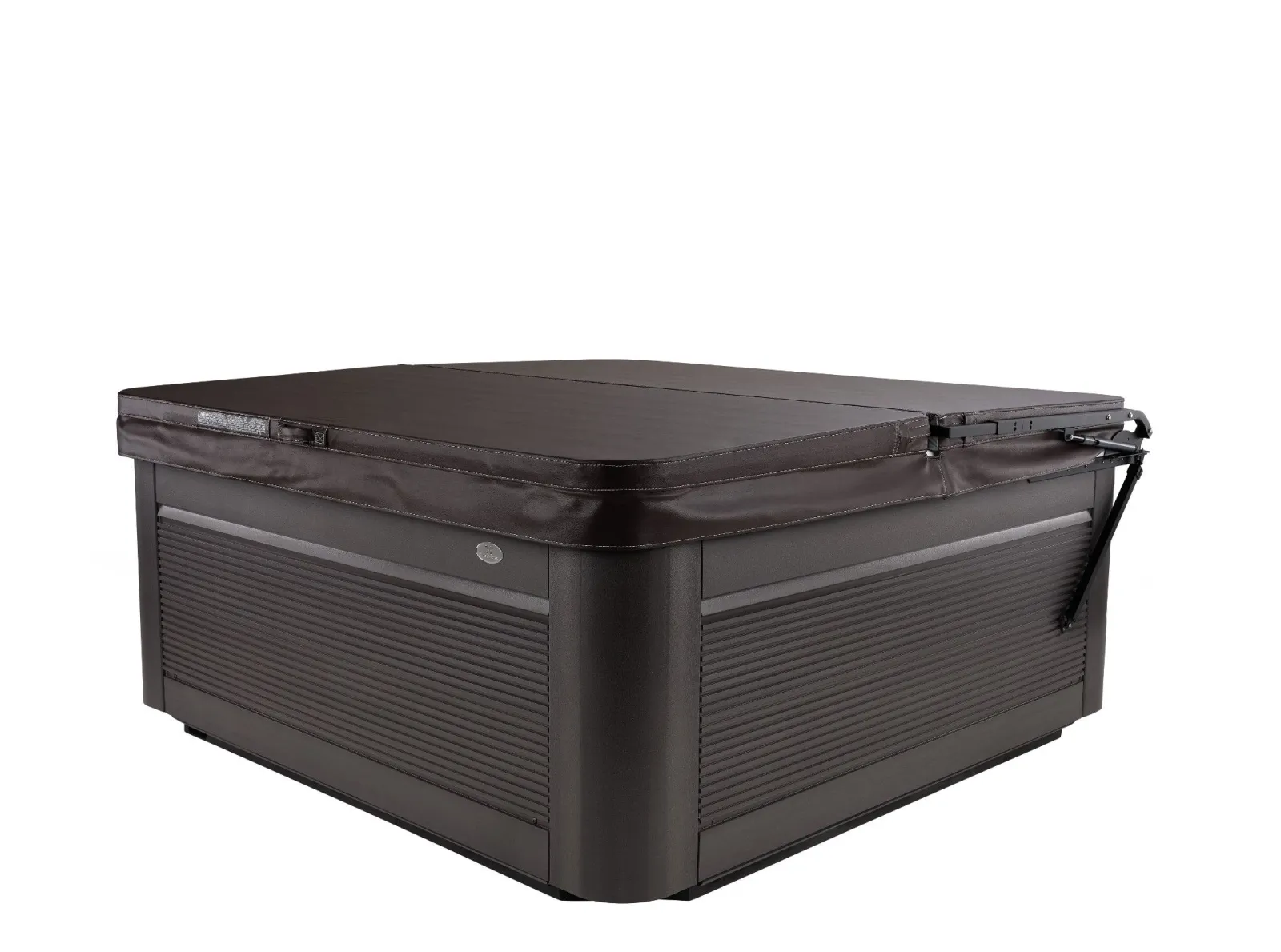 Energy Efficiency
We don't compromise when it comes to energy efficiency. Each of our hot tubs meets the most stringent energy standards established by the California Energy Commission (CEC). Every aspect of your spa's construction - insulation, heaters, pumps, and spa cover - work together to keep your spa water hot, and your energy bills low.

Georgia Spa Reviews
Wow... Great experience with Georgia Spa. From the sale of our spa to questions after the purchase they have been awesome to work with. If you are going to purchase a spa soon save yourself some time and look no further.

Corey L.
Outstanding company. Georgia Spa was professional and diligent from the second we walked in the showroom to the moment we got into the hot tub.

Andy W.
Great experience from start to finish! The hot tub was delivered flawlessly thru a tight porch door, works like a charm, is beautifully designed and constructed, and everyone from sales to delivery to orientation has been extremely informative and helpful! A proud owner!

Daryl S.
The whole experience of buying a hot tub from this business has been very pleasant. This was me and my husband's first hot tub purchase. Everything went smoothly and everyone has been very friendly and professional. Thank you!

Jane H.
Great purchase experience, fantastic set up team, and good service after the installation!

Doug S.
I am very pleased with my experience with everyone I've dealt with from beginning to end of this process of becoming a spa owner

Zachary C.
We had the best service from the time we made our first phone call. They were ready to show us around when we arrived. Everyone has been super helpful and pleasant. The guys that delivered and setup the spa were professional and very efficient. Kudos for providing the best service possible! We will definitely use them for all of our hot tub needs!

Kathleen P.
Service is always excellent and timely. Whenever I set up a call the technicians are professional and helpful

Marcus S.
The technicians who came out to repair our spa were great. Super professional and competent. The service call turned out better than I had expected.

Michael M.
We have had our spa for many years, and Georgia Spa Company has helped us keep it like new. Their employees are timely and professional, and every one that I have interacted with has been nothing but helpful. Great Service. Great Company.

Re M.
Georgia Spa has been Great to work with from purchasing to servicing! Very professional and knowledgeable!

Dennis N.
Very professional. Sale to install was a very smooth process!

Chrissy H.
An outstanding team to work with. Highly recommend them to anyone.

Steve P.
Quality people and products. Plus, they don't forget about you after the sale with teaching you how to use your purchase and follow up on any needs you might have.

R F.
Great People. Great Service. Quality Products!

Kathy P.
Friendly knowledgeable staff. A great place to buy a Big Green Egg!

Scott B.
We love our saltwater Hot Spring hot tub from Georgia Spa. It is fabulous for relaxation and rehabilitation! We have used it all year! The staff at Georgia Spa is friendly, professional, and knowledgeable!

Rebecca K.
Georgia Spa Company is the best! From the best brands of hot tubs and outdoor accessories to the friendly knowledgeable staff, they just can't be beat. The sales force listens, ask questions and suggest just the right models for you. I have confidence that if I have a question the answer is just a phone call away. Their concierge service is the best. If there is a problem or a question over the phone that needs more looking into, they send a "Spa Guru" out to your home. Buy with the confidence you are getting the best spa, from great people who are there to help you enjoy it year-round.

Mickey A.
Georgia Spa is THE place if you're looking for custom cut sauna solutions or any sauna solutions.

Kari L.
Extremely friendly and helpful staff. Beautiful quality spas, saunas and massage chairs. Team effort in sales. Relaxed, no pressure approach. Enjoyed my experience.

Laura L.
The service at Georgia Spa is top notch. Responsive and attentive. Highly recommend!

Emilie C.
There are very few companies where I've experienced such amazing customer service. Every step of the way, every single employee were courteous and professional. I'll be a customer for years! Love my hot tub, my only regret is waiting so long to purchase one!

Jody T.
On time, good work, friendly staff from beginning to end and goes out of their way to make us return customers.

Bob P.
Bought my hot tub at Georgia Spas about 12 years ago. They have been doing the drain, clean and fill and servicing of the tub since. Their service is second to no one and I would not think of going anywhere else for the purchase of another tub or repairs & service on my existing one!!

Douglas P.
Have enjoyed doing business with Georgia Spa Company! They have always been fantastic with every aspect from buying to upkeep and any warranty or repair issues we've had! Top notch!! Would recommend them to anyone & will continue to be a happy client!

Lizanne H.
My rating is for the Spa Valet guys. Happened to be home one day when they arrived at my home, assuming they'd be in and out within a short few minutes. To my surprise, they spent probably an hour servicing our Hot Tub, cleaning filters, cleaning water lines, balancing chemicals, plus completing a 12-point inspection. This service I'd highly recommend.

Scott E.
Great service and friendly tech support. Answered all my questions and the tub was fixed in a quick fashion. Thank you.

Darrin G.
You are a topflight company with first-rate customer service. In this day and age, it's hard to find companies like yours who emphasize that. The tech who came out was fantastic. You have earned my business.

David K.
Georgia Spa Company is the ONLY place to shop for a spa! They are truly dedicated to customer service and making SURE the customer is 100% satisfied. It really was a great experience. I use my spa every day of the week. If you've been considering making the purchase, just do it. You will never regret it, I assure you!

Derek S.
I was very surprised at the level of customer service you receive before and after your purchase. Any questions I have had regarding getting the water right they are more than happy to help as well as an introductory class on how to balance the chemicals in the water. Overall I would recommend Georgia Spa Company to anyone.

Monnie S.
They are great group of people to work with always friendly and want to help.

Jerry K.
The only Spa company we trust. Great customer service after the sale. Always available to help solve any issues or questions we have. That's why when we moved into our new home, we had Georgia Spa Company install our new larger tub for 6!

Tj S.
Bought a hot tub from Georgia Spa in 2014 and continue to go back and buy supplies and accessories. They have always provide great customer service and answer any and all of my questions.

Tara D.
Get Pricing
Your privacy is important to us. We will not share your information with anyone.
We will periodically contact you with exclusive promotional offers and product news.
You may unsubscribe at any time