The Widest Range
Georgia Spa Co. is a Big Green Egg Authorized Platinum Dealer with access to the widest range of accessories.

Top 12 EGGcessories
Buying your first Big Green Egg can be an exciting time. Here is a list of our top 12 accessories which will expand your cooking options and maximize your Big Green Egg experience.

convEGGtor®
Transform your EGG into an outdoor oven using a convEGGtor to block direct flames and achieve indirect cooking.

5 Piece EGGspander Kit
Expand your Big Green Egg into the most versatile cooker with additional cooking space and control zones.

Grill Gripper
The Grill Gripper easily and safely grips and lifts stainless cooking grids and grilling planks

Ash Tools
Use to remove the small amount of ash that collects at the bottom of the EGG.

REGGulator Rain Cap
Keep wet weather away from your EGG.

Instant Read Thermometer
Get accurate food temperature readings in seconds!

Half Moon Baking Stone
The Pizza & Baking Stone turns your EGG into a fire-brick oven, perfect for making pizzas, breads, desserts and other baked items.

Dual Probe Wireless Remote Thermometer
This remote wireless thermometer monitors temperatures from a distance of up to 300ft / 91m.

Dual-Sided Cast Iron Grids
The Big Green Egg Dual-Sided Cast Iron Cooking Grids heat quickly and hold heat for perfect sear marks on your favorite steaks, chops and burgers. Reverse the grids for a flat searing surface ideal for fish or seafood. Great for grilling veggies or for use with 'blackening' recipes.

Half-Moon Cast Iron Plancha Griddle
The dual-sided design is ideal for searing meats and seafood, sautéing vegetables, grilling sandwiches and cooking breakfast favorites … use the flat side for pancakes and eggs, the ridged side for sausage and bacon. The Plancha Griddle, with convenient handles, can be used individually or in pairs.

EGGmitt BBQ Glove
The EGGmitt BBQ Glove is made of aramid fibers, also used in aerospace, to form a barrier preventing heat from entering the soft cotton inner layer. Extra long cuff for ultimate protection. The Mitt has silicone on the surface for superior grip and is reversible for the left or right hand

Vertical Chicken Roaster

Using a vertical roaster on the EGG will produce the juiciest, most flavorful poultry you've ever tasted!

Your local
Big Green Egg Experts
Buying your first Big Green Egg can be an exciting time. One thing that new buyers think about is care and maintenance. Our team of BGE experts are here to guide you through that process from Day 1 so that your kamado grill can last a lifetime.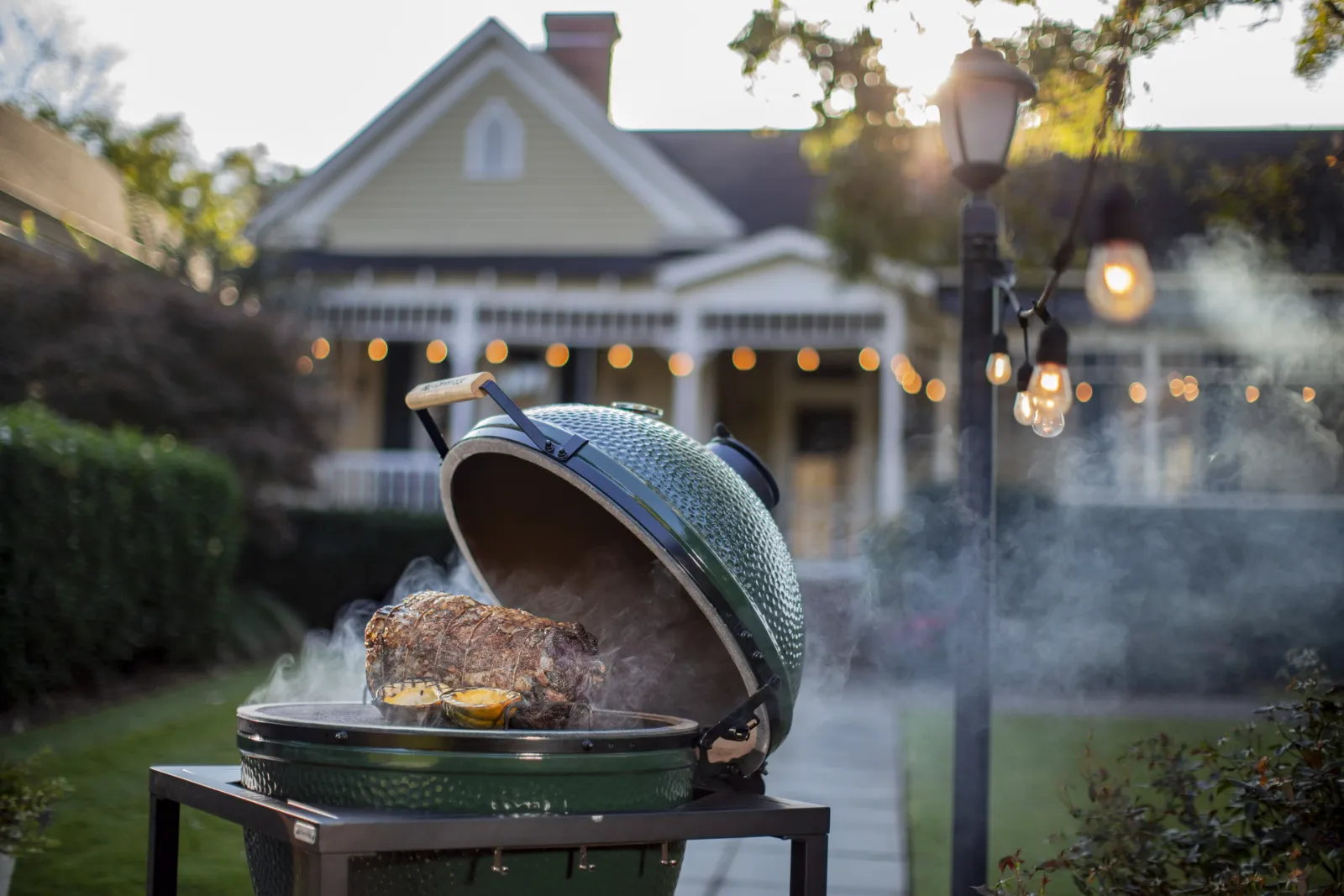 Why Buy an Egg?
As Big Green Egg has evolved over the years, significant changes have been made to keep it miles ahead of anything else on the market -state-of-the art ceramics, a wide range of easily adjusted cooking temperatures, a stainless steel cooking grid and a permanent porcelain glaze to preserve our signature green color.

Crafted to the Highest Standards
Learn how the Big Green Egg is made!

Request More Info
Fill out the form to request more info about Big Green Egg!
Your privacy is important to us. We will not share your information with anyone.
We will periodically contact you with exclusive promotional offers and product news.
You may unsubscribe at any time.