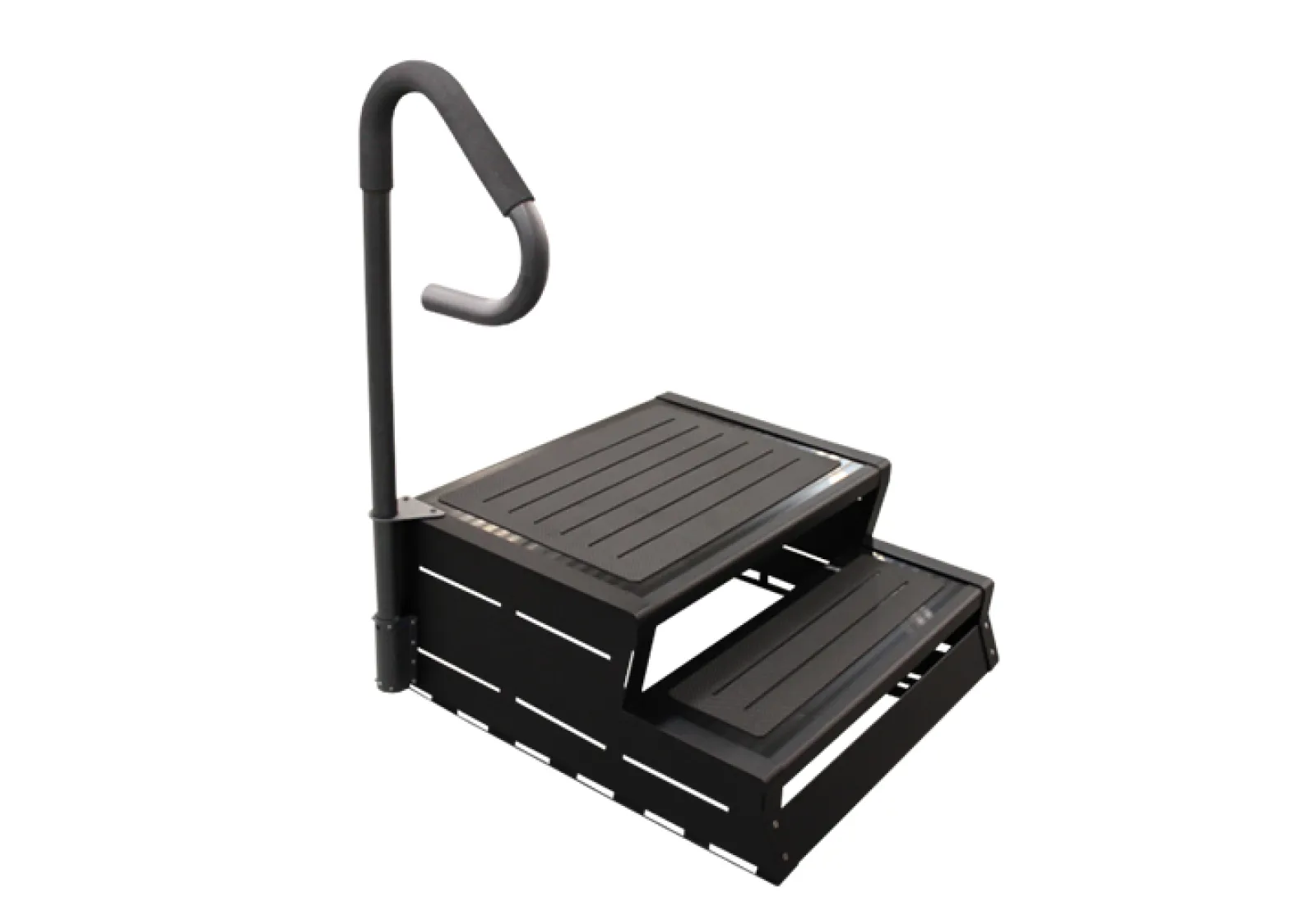 ModStep 2XL with Safe-T-Rail
SAFETY AND CONVENIENCE IN ONE PACKAGE
Safety and convenience should be a top-priority for your customer—this attractive package offers both! We've combined the popular Safe-T-Rail with our top-of-the-line step to create a stable, sturdy accessory no spa owner should be without.
The ModStep 2XL is the only step in the industry that offers a wide landing platform that is safe and attractive. The large 24" x 35" top platform includes a non-slip, rubber tread to prevent slipping. Built with a powder-coated aluminum frame and polymer treads, the ModStep 2XL is the sturdiest, safest and strongest two-tier step on the market. The easy to attach handrail helps ensure the spa user is able to safely and easily enter and exit their spa. Quickly and easily assembles in 20 minutes or less.
MODSTEP 2XL FEATURES & SPECS
Sizeable 12" x 35" wide treads with slip-resistant pads for added safety
Expandable width in 35" increments
Black powder-coated aluminum frame with polymer treads
Assembles in 20 minutes or less
Treads are available in black only
SAFE-T-RAIL FEATURES & SPECS

Ultra-sturdy, rust-free construction
Foam grip for comfort and safety
Made of rust-free, black powder-coated aluminum
48" high with a 2-inch diameter pole
Request More Information
Use this form to request information about any product or service that we have to offer.
Customer service is our top priority. When you request information through our website, we will route it right away to the person from our organization who is best suited to giving you the right answers. We try to get to every request as soon as possible but please allow 1-2 days for responses.